So, why exactly is your Fitbit device not showing sleep scores?
There is not one but many reasons behind this problem and we're going to address all of them and provide their solutions in this post.
But first, let's have an in-depth talk about this feature.
Gaining a better understanding of this feature can help you make the most out of it.
Why does my Fitbit don't give me a sleep score?
There are 5 possible reasons your Fitbit is not giving you a sleep score.
Problem in Fitbit Account Sign in/out process.
Sleeping score data syncing problem.
Fitbit app version not supporting the problem.
Manual marking of sleep status related problems.
Your Fitbit is worn loosely.
Your sleep time is under 3 hours.
Fitbit server related problem [very rare].
How to fix Fitbit Sleep Score Not working issue?
Sleep score could stop working due to many reasons as I mentioned earlier.
Let's go through the fixes which may fit your scenario.
1. Log out and Log in back into the Fitbit app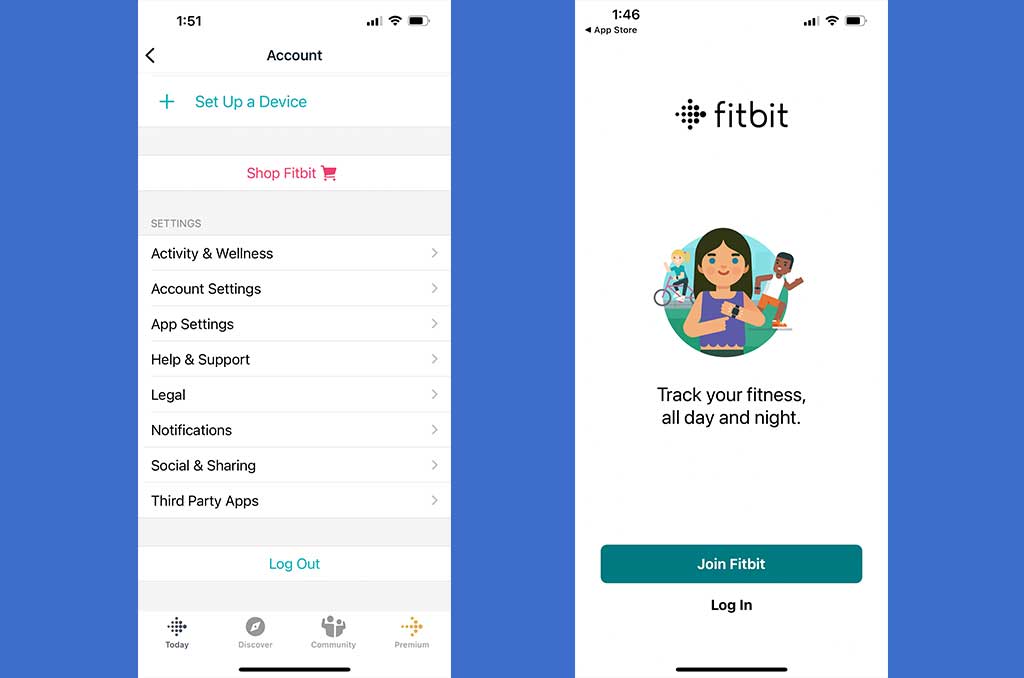 Fitbit forum moderators have advised several users to log out and log back into the Fitbit app.
According to the Fitbit forum, this process forces Fitbit to load fresh sleeping data from their server into your Fitbit.
This fix seems to work for many users. This is how you can log out and log in.
How to log out and log in to the Fitbit app?
Open the Fitbit app on your mobile.
Visit the "Today tab" and tap your account picture.
Select the "Log out" option in the opened window.
Then you will be redirected to the login page automatically.
Enter your correct credentials and log in back.
If this does not work, let's try the next one.
2. Install a fresh copy of the Fitbit app
This solution will fix the problem most of the time.
Using the fresh installation method, we expect to resolve a few problems at once.
When we do this, the following possible problems will be resolved.
Sleeping Data syncing problem with your Fitbit device and Fitbit Sever
Fitbit App version not updating issues which can cause the sleeping score function
Possible Fitbit app internal files damages
But we need to do a few more things before moving to install the fresh installation.
1. Sync your data into the Fitbit servers
It is important to sync all your data into the Fitbit servers before making a fresh installation. To do that, follow the steps mentioned below.
Open your Fitbit app
Go to the account by clicking the account icon
Select the device you want to sync. They will show separately.
Click Sync manually
Finally, click "Sync Now" option
2. Uninstall Fitbit from your mobile phone
You can follow your typical process to uninstall the app from your mobile phone.
Android and iPhone have their own methods.  
3. Install the Fitbit app from the App store
Now, visit your App store (for Android users, visit the Google play store)
Search Fitbit App and GET it to your phone.
Once it is installed, enter your old account access credentials.
4. Pair the Fitbit device to your Mobile through Bluetooth
Once you have the fresh install, pair the Fitbit device back again to your mobile.
The steps will be the same for any device.
On your phone, go to Settings. Then turn ON Bluetooth
A message appears asking you to allow your device to display your iPhone notifications. Tap Allow.
In the Fitbit app and initiate setting up the connection.
Tap Pair to approve the request. Done
After you have followed all these steps, the sleeping score should be visible as usual.
3. Don't select the 'begin sleep now' or 'I'm awake' Buttons
This solution may sound a little bit confusing.  
But we found out that, not checking the sleeping status manually helps to track the sleeping score for many cases.
Even there are lots of users in Fitbit forums who claims their Fitbits started to show sleeping score after they ignore the "Begin sleep now" and "I'm awake" buttons.
4. Worn your Fitbit in the correct position
The sleeping position could damage the sleeping data reading process as well.
If the Fitbit couldn't touch your skin properly, Then the photodiode-based sensors could not read the blood movement data accurately.
This can cause missing sleeping scores without you realizing it.
Fitbit support advice to wear the Fitbit higher on your wrist. Mostly 4 or 6 inches above your wrist bone. [Do not tight too much as well]
Also, you can try putting Fitbit underside of your wrist as well. Some skins are different and will have a hard time getting accurate readings.
5. Do not sleep less than 3 hours
Fitbit officials mentioned in several forums that sleeping less than 3 hours will cause problems with tracking and calculating your sleeping score properly.
It's not good for your health as well.
Even though this is an unusual situation, some of them may experience such situation. If so, get more sleep hours in order to work a sleep score on your Fitbit.
6. Fitbit Server-related Problem [Rare]
Well, this is a somewhat unusual problem. It's rare. But it happened.
In 2021, there was a Fitbit server-wide problem which causes a delay in receiving sleeping score data from their servers.
The following comment section was from one of the blogs which discussed this issue at that time.
We don't have a solid answer to resolve this kind of problem. The solution will vary depending on the problem the Fitbit server system is having.
Anyway, in 2021, Fitbit officials told the users to restart Fitbit and delete the previous date's sleep log. After that, enter manually re-enter the start/stop time.  
My advice for this kind of problem is to wait till Fitbit announce a Fix. Usually, Fitbit's Twitter feed will announce solutions for this kind of rare problem.
What is the sleep score?
The sleep score helps the users find out exactly how many hours they are sleeping and how many of those hours are quality sleep.
How Fitbit's sleep score calculated?
The Fitbit algorithm uses three factors to calculate the sleep score.
These three patterns are;
time of sleep
REM sleep
the heart rate
How much does each factor account for?
The time of sleep accounts for 50%
The heart rate 25%
The REM sleep 25%
Does Fitbit Sleep Score is accurate?
The answer is yes; it does.
But, don't rely too much on it because you can't be 100% sure, of course unless your sleep score is always excellent.
What is a good sleep score?
Most users of Fitbit fall under the category of Good and Fair. Here are the score ranges of Fitbit:
Poor = Below 60
Fair = 60-79
Good = 80-89
Excellent = 90-100
These scores are taken directly from Fitbit.com.
You may Also Enjoy Reading