Ring is a famous brand in the smart housing field. Especially they are well known for the home security devices which support lots of smart features.
Among various devices, Ring spotlight is the most used security camera of their device portfolio.
Due to these devices' popularity, there are many questions been asked by smart home lovers before making their purchase.
The ability to withstand the water, or else rain or stormy weather is one of frequently asked question. The answer is kind of a Yes and No type one.
Well, let us check why it has a two side answer.
Is really ring spotlight camera waterproof?
According to the manufactures information's, the Ring spotlight camera is not Waterproof, but weather-resistant. (read our article about ring spotlight cam battery lifetime here)
What they say is, their cameras work on the temperate condition of -5°F to 120°F (-20.5°C to 48.5°C) and have the resistant of the several weather conditions.
But based on this fact, we could not conclude that spotlight cam or other type of ring camera is waterproof.
So I have researched further and found some info that explains their scoop of weather-resistant ability regarding water.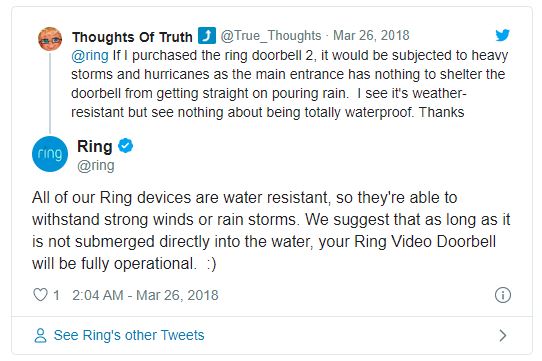 Here, in this twitter, ring itself says that all their devices are water-resistant, but do not submerge in the water. So, it means that their devices have the capability to withstand heavy rain or storm. But, not waterproof.  
Further, I have found that their spotlight cam has the IP55 rating for water-resistant.
What is this real meaning of weather-resistant/waterproof/water resistant?
I think you may now have confused with all these word difference. Well, do not worry. I'll explain it as clear as possible.
Before doing so, it is better to have an understanding of the quality rating for weather resistant, which is commonly known as an IP rating (Ingress Protection).
What is Ingress Protection?
Ingress Protection is the standard rating system used in worldwide devices to represent their ability to showcase weather resistance.
With the rating value, anyone can have a fair idea about the quality (weather resistant) before buying their desired devices.
Mostly, this rating represents the protecting rating from water and solid.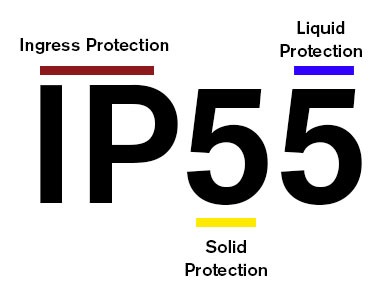 As mentioned in the above figure, the solid and liquid protection ability is mentioned in the respective numbers. You can refer below table to have a clear idea about the level of protection for each number.
First digit: Solid particle protection
Digit
Size
Description
X
—
X means there is no data to explain the protection ability for a certain item
0
—
No protection against contact and ingress of objects
1
>50 mm
2.0 in
The large surface of the body
2
>12.5 mm
0.49 in
Smaller objects like fingers
3
>2.5 mm
0.098 in
Tools and things like wires
4
>1 mm
0.039 in
Insects and small wires
5
Dust protected
Dust may not enter to the device at this level. Well protected
6
Dust-tight
Complete protection. The vacuum may be applied.
Second digit: Liquid protection
| | |
| --- | --- |
| Digit | Description |
| X | — |
| 0 | No protection at all |
| 1 | Dripping water |
| 2 | Dripping water when tilted at 15° |
| 3 | Spraying water – means with little force |
| 4 | The splashing of water – means medium force |
| 5 | Water jets – means high force |
| 6 | Powerful water jets – means very high force |
| 6K | Powerful water jets with increased pressure – very high force |
| 7 | Immersion, mostly up to 1 meter |
| 8 | Immersion, 1 meter or more depth – longer period |
| 9K | Powerful high-temperature water jets – extreme conditions |
If you are interested in looking at how this IP test is happening, here's a nice video showing an IP test toward Panasonic cameras. This procedure will be the same for ring cameras in order to get its legal certification.
Can Ring spotlight get wet?
Now, the real problem. Can ring spotlight get wet? Yes, it can get wet. But just the outside of the casing. Not the inside of the camera.
Since spotlight cam has an IP55 rating, it can withstand liquid presser equal to water jet force. This means spotlight cam is protected from heavy rains, storms and even from garden water pumps or water sprays.
However, do not misunderstand it, IP55 means it is not waterproof. If you immerse the camera in water, it probably not works anymore.
Are Ring cameras waterproof? – All other versions
How about the other camera's water-resistant condition? I thought you would like to know that too.
Even I were to buy, I will check the conditions of stickup cam and floodlight cam to compare them with spotlight cam.  
We all know that spotlight light cams do not look good for all the places in our house. Especially when we need some high light conditions, which spotlight can't give. Check my article explaining the inbuilt lighting difference of spotlight cam.
Here's a table with the information I was able to find by going through ring support and other places.
| | | | |
| --- | --- | --- | --- |
| Camera Type | IP rating | Ability to withstand water | Price on Amazon |
| Spotlight battery, wired | IP55 | Even for general water jet equal power of water force | Link to Amazon |
| Stick Up | IPX5 | Even for general water jet equal power of water force but does not have info regarding dust | Link to Amazon |
| Floodlight | IP56 | Even for high power water jet equal power of water force | Link to Amazon |
Is ring floodlight cam waterproof?
No, but it is safe from the heavy rain and storms. Since it has the IP56 rating, it does offer more protection than ring spotlight.  
Ring floodlight cam is the one specially designed one for outdoor use. Therefore, the overall protection for this one is quite high.
So, in my opinion, the IP56 rating is more than enough to run long term facing rains and storms.
Is ring stick up cam weatherproof?
Couldn't find much reliable information. However, there is some note on the IP rating of this cam, and it says the cam is protected toward the water.
But, the technical information regarding dust is not clear at the moment.
Final Thoughts
After going through a lot of information, I could say that spotlight cam is safe for everyday incidents that related to water. Also, more than protected from forceful water.
However, this does not say that your camera will be okay inside a water pool. It will surely go offline. Most probably, inside circuits may never work again.
---
Does ring camera water proof? read our details article if you are interested to find out the answer
Reference