One of the great feature in ring spotlight cam is their inbuilt light. It makes it easy to visually inspect anything in the surrounding.
However, there is an ongoing discussion about the practical usage of this lamp in the spotlight camera batteries.  
For the question, how bright is ring spotlight cam, the answer will be; Not so bright as you expect. It is actually a simple LED strip with minimum lumens.  
Is the ring spotlight bright?
Ring spotlight cam system employs two separate LED strip type lamps in its design.
From the data available through manufacture, they offer two versions of LED lights for its different light models; Spotlight cam battery and spotlight cam wired & spotlight cam mounted.
However, the available light intensity is not that enough as an outdoor lamp.
Therefore, do not expect to have a clear view through the inbuilt lights in your spotlight cam.
However, this does not mean it is too dark. Especially, this amount of light intensity is more than enough for the spotlight camera. So, it will produce clear images in your recording view.
(Ring spotlight cam is not 100% waterproof, want to know why, then this article is for you)
The only drawback is you cannot have real bright light experience with this inbuilt lamp.
If it helps, keep in mind that an LED light that uses between 400 and 500 lumens is typically 6-7 watts. Ring Spotlight Camera may not be as bright as a regular LED light.
How many lumens is the ring spotlight?
When it comes to light's intensity (brightness), then the proper measuring term is "lumens".  
If it helps, keep in mind that an LED light that uses between 400 and 500 lumens is typically 6-7 watts. Ring Spotlight Camera may not be as bright as a regular LED light.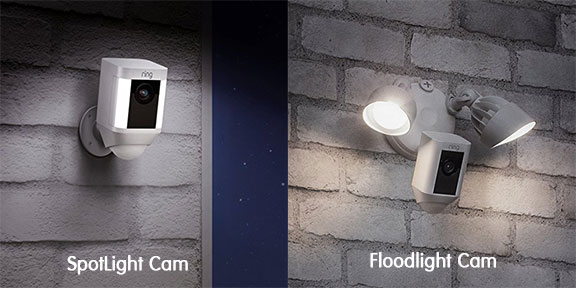 Some guys think that watt value is the one to determine lights brightness. But, that's not true. The brightness is the measurement that gives light visible spectrum output (which is measured in lumens).
On the other hand, watt is the total power consumed by each bulb. These consume power does not convert 100% to brightness. Depend on lamp type; it will waste some of the major amounts of power into heat.
So comparing light with wattage is incorrect.
Okay, let's check the lumens value of ring spotlight and its other variations.  
| | | | | |
| --- | --- | --- | --- | --- |
| Ring Cam Type | Spotlight Cam Battery | Spotlight Cam Wired | Spotlight Cam Mount | Floodlight Cam |
| Power Source | Rechargeable Battery Pack | Standard Power Outlet | Hardwired to Electrical Boxes | Hardwired to Electrical Boxes |
| Recommended Use | Homes without Outdoor Power Sources | Homes with Outdoor Power Sources | Homes with Outdoor Electrical Boxes | Homes with Outdoor Electrical Boxes |
| Field of View | 140° horizontal, 78° vertical | 140° horizontal, 78° vertical | 140° horizontal, 78° vertical | 140° horizontal, 78° vertical |
| Brightness | 300 Lumens | 375 Lumens | 375 Lumens | 1,800 Lumens |
| Check Price | Amazon | Amazon | Amazon | Amazon |
According to the above table, we can see that spotlight cam battery model has only 300 lumens for its bulb set. Spotlight cam wired and spotlight cam mount have 375 lumens.
This change can be due to the difference in power methods. Usually, if the lumens values increased, then it will draw more current from the power sources. So, the first model may have less lifetime if it uses high lumens lights (since it is powered through a battery).
Anyway, the rest versions based on dedicated wired power systems. So, they have an unlimited power supply. That could be the reason for the company to increase the lumens value in those light systems.
But, just extra 75 lumens mean not much different at all. So do not keep high expectation on brightness on wired models too.
I have added the floodlight cam here to compare it with rest of the models. You can see that it has 1,800 lumens. That's a really useful amount of lumens for sure.
How bright is 300 – 375 lumens?
Even though I have explained the lumens difference, most of you guys may not have a real feeling about the brightness amount in these values.
So, I thought to add some extra detail to have a proper idea about the lumens value compared to everyday lamps.
| | | | |
| --- | --- | --- | --- |
| Lumens (Brightness) | LED Watts | CFL Watts | Incandescent Watts  |
| 400 – 500 | 6 – 7W | 8 – 12W | 40W |
| 650 – 850 | 7 – 10W | 13 – 18W | 60W |
| 1000 – 1400 | 12 – 13W | 18 – 22W | 75W |
| 1450-1700+ | 14 – 20W | 23 – 30W | 100W |
| 2700+ | 25 – 28W | 30 – 55W | 150W |
Data source from.
Above table represent the lumens value ranges with respect to different light sources which produce same light output.
According to the table, you can see that 300 – 375 lumens means a very low amount of brightness. Probably very much lower than the common CFL bulb of 8 W.
Is the ring spotlight CAM any good?
There is no doubt that ring spotlight cam is a superior product in the market. It does offer numerous features and options to secure your home in a SMART way.  
The only drawback in term of light is its brightness.
However, you may need to know that, most of the available other option even do not have a single light with them.
Also, if the light is too bright, then you may need to charge your spotlight cam battery more than usual to work.
On the other hand, this light not that bad. It will produce some light amount that will useful to see surrounding at a limited way.
But, it is not enough to scare away automatically any thief of animal in front of it.
Ring Spotlight Cam's battery-powered outdoor camera is a fantastic choice. It is also possible to manage the amount of data recorded and the number of alerts you get with improved software.
What is the difference between ring Spotlight and Floodlight?
I think Ring has introduced the floodlight cam option to fulfil the light problem with spotlight cam versions. It has some series amount of light power.  
Most of the other options are the same in both systems.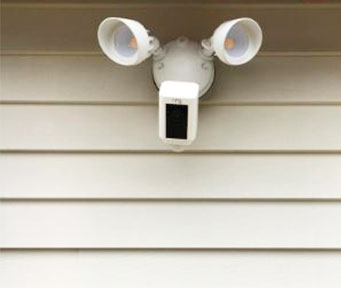 Floodlight cam is not able to charge with solar ring attachment. However, it does have advance motion detection capability which does not have in spotlight cam battery model.
Floodlight camera will be great for outdoor sections where you need to have a bright light intensity.  
How bright is ring floodlight Cam?
In terms of brightness, it is 1,800 lumens. This is equal to 30 W CFL lamp or else 100 W Incandescent lamp.
Definitely not suitable for indoor sections due to the high amount of light intensity.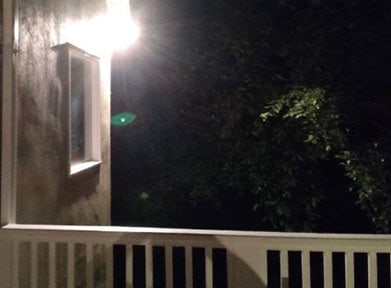 But, for your garden or near the garage section, this model will be an excellent fit.
Further, you can adjust the two separate lights in the floodlight model to fit your viewing area.
How Bright Is The Ring Spotlight Cam?
So How Bright Is Ring Spotlight Cam? The ring spotlight cam brightness has an output of 300 lumens. LED LEDs on both sides of the camera have a colour temperature range of 4,000 degrees Kelvin. The Floodlight cam, on the other hand, puts out 1800 lumens. Even if the Floodlight is brighter, a more thorough evaluation is required to determine which one is superior.
Is Ring Spotlight Cam's Illumination Up To Par?
Ring spotlight camera is excellent options for lighting up your outside regions. Ring Spotlight seems better suited for smaller residences and yards because of its higher brightness output (between 300 and 375). The Floodlight cam is a superior choice if you have a big yard or garden.
Best Height For Ring Spotlight Camera
The best height for ring spotlight camera is nine feet; your ring spotlight cam lumens may provide a broad field of view while also capturing high-definition footage of guests' faces. An angle of severe downwards may be seen when the Spotlight Cam is placed too high.
Ring Spotlight Cam At Night – how does it work?
Motion detection, battery power choices, and an integrated spotlight are included in the Ring Spotlight Cam's features. Because of the Ring Spotlight Cam's enormous field of view, HD video and night vision of up to 30 feet may be seen in HD.Because of the Ring Spotlight, Cam's consistent power source is the most excellent color-vision solution. Color night vision drains a lot of battery life.
The Ring Spotlight Cam Must Be Connected to the Internet
To access the camera, you'll need to use a PoE switch to connect it to your home network. To power the camera, you'll need to use one of the following methods:
12v 1amp DC power supply
PoE injector
Using The Internet To Access Your Ring Spotlight Camera
It would help if you used a browser that supports ActiveX to access Ring Spotlight Cam's constructed web application settings. Google Chrome, Mozilla Firefox, and Safari will not allow you to use the camera. – Internet Explorer 11 may be used.
You must go through a few extra steps in the browser to use ActiveX controls completely.
Ring Spotlight Cam Light Duration
How long do the Floodlight Cam's lights remain on? Our ring spotlight brightness automatically turns on and remains on for 30 seconds when motion is detected. This is the default setting. However, this may be easily changed.
How Many Lumens Is The Ring Spotlight
A hardwired Floodlight with 2000 lumens light brightness may illuminate your driveway, sideyard, and other high-traffic areas. By connecting the Ring Bridge, you'll have access to many possible command and command combination possibilities. Enable motion detection with Ring Smart Lights and get alerts.
Ring Spotlight Vs. Floodlight Difference
| | | |
| --- | --- | --- |
|   | Ring Floodlight | Ring Spotlight |
| Dimensions | 6.5x12x9.5 (inches) | 2.6×3.8×4.75 (inches) |
| Weight | 3 pounds | 1 pound |
| Light Output | 2×3000 kelvin bulbs 1800 lumen | 4000 kelvin bulb 700 lumen |
| Camera Resolution | 1080p | 1080p |
| Field of View | 140 degrees | 140 degrees |
| Color Options | Black or White | Black or White |
| Power Options | Hardwired Only | AC Adapter, Battery, Solar |
Floodlight Cam
Ring Floodlight Cam's siren and built-in floodlights will scare intruders away. It's a more expensive option than all the Ring cameras, but still, it comes with additional security features that make it worth the extra money.
Features
1080p high-definition video
Alternatives to a Ring camera are more expensive and do not include a backup battery. So must be hardwired to work
Replaces the previous light source
3000K color temperature built-in floodlights
A motion-activated 110-decibel alarm (user-activated)
A field of vision of 140°
Customizable motion zones and a 270-degree recognition of objects moving and faces enable intelligent zooming and panning.
From -22 degrees Centigrade through 120 degrees Celsius is the operational temperature range.
Getting Started with Ring Floodlight Cameras
Two powerful floodlights illuminate dark areas, and a 110-decibel alarm sounds when activated.
Unlike most of the Ring cameras in our comparison, the Floodlight Cam requires a hardwired connection. Please choose a location where you will have easy access to energy while installing it. To save time and money, use existing light and a conventional junction box.
There Are A Few Places Where This May Be Useful:
At The Back Of Your House
With dual floodlights and an alarm, you can scare away intruders and animals from the back porch.
In low-light conditions, the Floodlight makes it easier to work outside. There is a sense of security knowing you could see the building from any location, day or night. If your router is too far from the Floodlight Cam, it will not be able to connect to the Internet.
Ring Spotlight
If you are looking for a camera with a minimal design that yet provides outstanding security, the Ring Cam is indeed a fantastic option.
With the Spotlight Cam, you get many of the same features as the Floodlight but at a lower price. Battery and solar-powered versions of the camera are also available for those who do not have access to a power source.
Features
Here are a few additional features of Spotlight Cam to keep in mind.
HD footage in 4K resolution is available.
The four unique varieties offered are spotlight Wire (for use with a regular power outlet), Cam Install, Spotlight Cam Battery, and Spotlight Cam Solar. Choose the correct version for your home before making purchases. '
Cameras powered by batteries typically have a battery life of 3 to 6 months.
The solar panel's micro-USB charging connector keeps your camera charged indefinitely.
There are two built-in, motion-activated lights in the ceiling.
These are on the sides of Spotlight Cam.
One has a 110-decibel sonic output (user-activated)
A 140° field of view.
There is 160° motion detection in the wired version, while 180° or 30° motion detection in the battery or solar versions.
Custom movement zones can be established with Spotlight Cam Wired and not with the Solar/Battery versions.
There is no way to identify anything.
Ring Spotlight Installation: Where to Put It
Set up one Spotlight Cam to dissuade burglars from working their way from the backyard to the front door of your home. You can see what is happening around you thanks to the Livestream, illumination, and alarm.
With a soft sleeper in the home, the Ring Spotlight Cam might be an option if you don't want to wake anybody up with the powerful brightness of floodlights. Though the Floodlight Cam's large floodlights are missing, the spotlights will still illuminate the nearby region and allow you to view beyond the door.
How Long Does The Battery Last On The Ring Spotlight Cam?
Depending on the amount of time spent using the camera and flashlight, the ring spotlight cam battery may last up to a year between charges. Two batteries can be attached to the camera, and when one of them runs out, it will swap to the other automatically.
Is The Ring Spotlight Camera Worth The Investment?
This outdoor security camera-light bulb combo is our favorite because of its simple setup, good performance, and intuitive software. You have to pay a monthly fee to view stored video clips is not ideal, but $30 a year is not too shabby either.
Where To Buy Ring Spotlight Camera?
The best ring spotlight cam is available at Costco in various sizes and styles. Wireless Security Cameras items are available at discount warehouse pricing. So check out the ring spotlight camera Costco within a reasonable budget.
Final Thoughts
The overall brightness of the spotlight cam model is not that good compared to their floodlight option. Spotlight cam battery option probably good for only small areas that does not require much light intensity.