Losing your magic remote is a terrible moment. I do know the feeling, and it makes me so worried when it happens.
Without your remote controller, you may not be able to connect your TV to Wi-Fi. That means no internet for your smart LG TV.
Well, that will be the worst nightmare. Isn't it?
By the way, do not worry, I do have a quick fix for this problem. All you need is a mouse. It's pretty easy.
Okay, before going into the steps of connecting your LG TV to the Wi-Fi without a remote, I want you to check whether your TV supports the mouse and keyboard functions.
How to check mouse and Keyboard compatibility of your LG SMART TV?
According to the LG support guide, all you need to do is check your TV's digital user guild.
Inside the user guide, there will be a section for your magic remote. In this section, you will find an option called "Using a Keyboard and Mouse."
Once you have select that option, you can see the recommended mouse and keyboard types. The LG support says that not all mouse types may work with LG smart TV.
LOGITECH K360, LOGITECH K400, LOGITECH K750, LG Electronics MKS-1200 are the types they have mentioned in the options.
However, if you do not have the capability to find the exact same mouse, then do not worry. 80% of the modern mouse and keyboards will work. Both wired and wireless will work.
The problems will raise mostly with the older mouse, which uses older data transfer technologies.
After you have connected your mouse into the LG smart TV, you will see a mouse pointer inside the TV screen. Now we can go into the steps that I have explained below to connect your LG smart TV to the WI-FI connection
How To Connect LG TV to WIFI Without Remote?
 Once you have connected your mouse into the TV, click the one and only physical button on the TV. This will provide three options, and you can select the "input" option to go for the next step.


In the next window, you will have several options to select. Click the "Live TV" option for the next step. You can make the selections by using your mouse.


After that, move your mouse pointer to the right side, and then it will show a menu. In this menu, click "recommended" icon. It is the option under the channel icon.


Now, there will be a message saying, 'you are not connected'. With this message, there will be an option to configure the network. This option button will have a text saying "yes" or similar meaning. You can figure out that by simply checking the instructions in the display.  


After step 04, another window will pop up with the options to set up your network connection. This is the network settings window. In here, you will see your router SSID. Click it and enter the correct password for your WI-FI connection.


You need to save everything after the configuration by following the instructions on display.
Everything will be back to normal once you have complete the above steps. You can enjoy your favourite shows on the internet now.

Keep in mind that you need to turn on your WI-FI router before you are going to proceed with these steps.

By the way, I found this video from YouTube. It explains the same steps. You can watch this if you are having troubles with the steps.
Bonus Method to Connect Your LG TV to WIFI without remote
Let's say you didn't had any mouse around the house. Now what?
lucky, I do have another method for you.
Almost all the time, we know that our WIFI routers has their own ethernet ports. Most of the time, there are 4 of them. We can use these ports to connect our LG TV to the WIFI connection.
Step 01: First, find an ethernet cable with proper length.
These cables are pretty much cheap and common in many computer parts shops. Maybe you already have them in your house too. Here's a photo, so you can recognize it anywhere.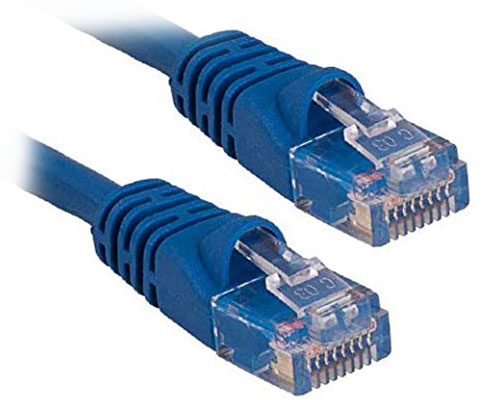 Step 02: Connect cable to your WIFI router and to the LG TV
LG TV usually ships with ethernet port. You can use this into your advantage. connect the cable to this port. Following photo shows the ethernet port. You can easily identify port using this image.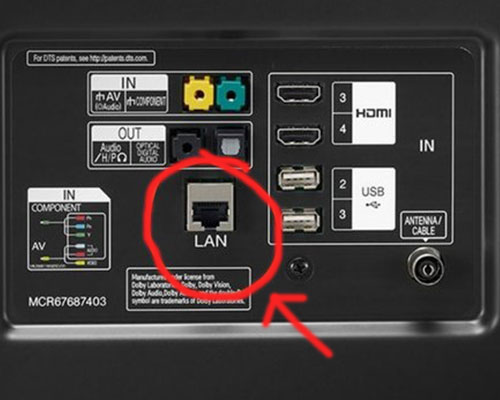 Step 03: Internet connection will be automatically restored.
Once you have connected both, internet connection will be established to the LG TV automatically.
Continue Reading:
Was this article helpful?