MAC address is the one that gives a unique identifier for your smart devices.
Mac address is different from the IP address. It does not change its values depend on the network properties.
Therefore, most of the apps, firewalls, or custom setups require the mac address to differentiate the smart device from one to another.
Do smart plugs and bulbs have a mac address?
Yes, smart plugs and smart bulbs have their own mac addresses.
Not only smart bulbs or plugs, but any device that can connect to a network will also process a mac address.
Without the mac address, your smart device may not able to connect to a network through common data communication protocols like TCP/IP.
Where is the MAC address on a smart plug and smart bulb?
Typically, the mac address will be printed in the manufacture's packaging box.
Smart Lighting for Home
x
That means you can easily find your smart bulbs or plugs mac address from its cardboard box.
However, if it isn't there, you can find the mac address for your device using the steps that I have explained in the below sections.
I have added step by step guides for most famous smart bulbs and plugs.
Philips Hue White Ambiance
Best smart bulb in the market
25,000 lifetime hours
50,000 shades of tuneable white light
The easiest and universal way to find MAC address on any smart bulb or smart plug
Normally, you will need to install the smart bulb's or plugs native app into your mobile and then check the device info to find out the mac address.
However, some brands may not show their devices' mac addresses in the app.
But do not worry, there is a very simple way to fix this, and this will work on many smart bulb and smart plug brands including, 
TP-Link smart bulb MAC address
Merkury smart bulb MAC address
Feit Electric smart bulb MAC address
Above lights smart bulb MAC address
LUMIMAN smart bulb MAC address
Smart Life smart bulb MAC address
Philips Hue smart bulb MAC address
Govee smart lights MAC address
Lifx smart bulb MAC address
Eufy smart bulb MAC address
Teckin Smart Plug MAC address
Amazon Smart Plug (how to setup) MAC address
iHome Smart Plug MAC address
Geeni Smart Plug MAC address
Portal Smart Plug MAC address
Etekcity smart plug MAC address
TECKIN smart plug MAC address
Wemo smart plug MAC address
All right, let me explain the steps for finding the mac address for any type of smart bulb or smart plug.
Step 01: First, you will need a windows 10 machine with wi-fi enabled. In the right corner of the taskbar, you'll find the notification button. Press it.
Step 02: Then, you can have a set of options including an option to set up a 'Mobile Hotspot'. Turn that on to activate a mobile hotspot through your PC or laptop.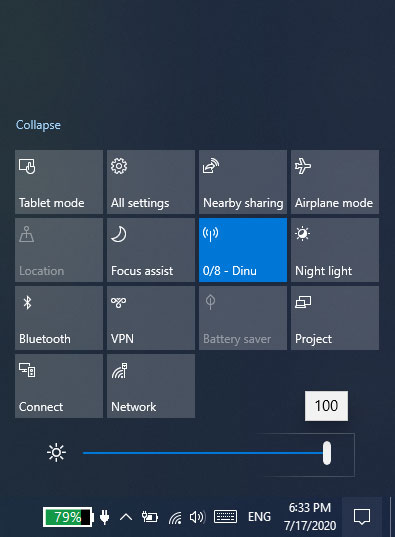 Step 03: If you want to change your mobile hotspot name or password, you can do that from the 'mobile hotspot setting' dialog (you can find it by typing its name in the search bar)
Step 04: Now, you need to connect your smart bulb or smart plugs native mobile app into the mobile hotspot, which we created a few minutes ago.

Before doing so, you have to connect your smart bulb or smart plug into its native app.
Step 05: After that, you'll see the mac address of all devices connected into your PC mobile hotspot (including your mobile's mac address).
Step 06:  To view all the connected devices, you have to right-click on the 'mobile hotspot' icon in the notification bar. Then it will open an option to select 'Go to settings' selection. Once you click it,  it'll redirect you to the mobile hotspot setting window where all mac addresses are being recorded.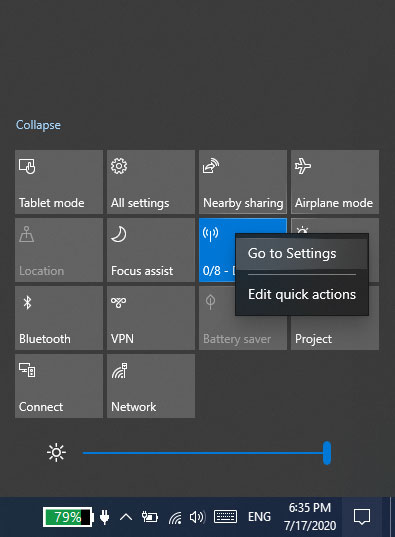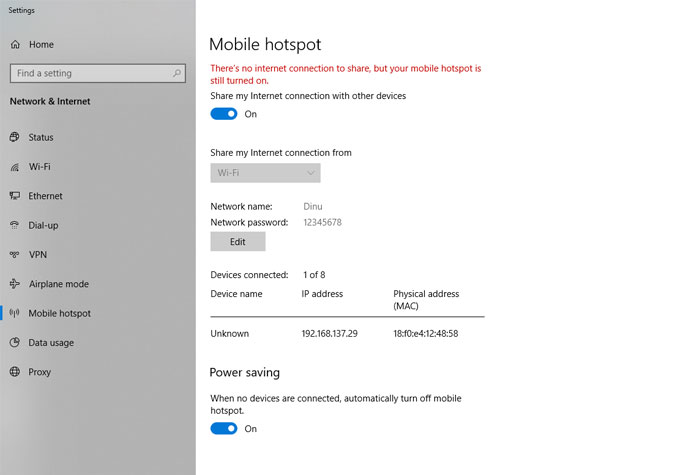 By the way, I have added a few more options for finding the mac address for several smart bulb's using their native app.
How to find Geeni merkury smart bulb mac address using its app – Step by Step Guide
Step 01: First, you need to log into your Geeni app on the mobile (I hope you have already connected your smart bulb. If not, follow these steps).
Step 02: On the main menu window, select the geeni device list.
Step 03: Now, click the device setting. You can find the device setting icon (…) on the top right place.
Step 04: Then click on the 'device info' section to check geeni mercury smart bulb mac address.
How to find lumiman smart bulb mac address using its app – Step by Step Guide
Step 01: First, you need to connect your lumiman smart bulb and your lumiman app into the same wifi network. To do this, you can use a router or hotspot from another mobile.
Step 02: Then log into the lumiman app and go to device control panel.
Step 03: In the control panel, click the three dots in the top right corner and choose 'device info'.
Step 04: Now, you could find your lumiman bulb's mac address in there.
How to find TP-Link smart bulb mac address using its app – Step by Step Guide
Step 01: First of all, you need to install your KASA app for tp-link smart bulb on your mobile.
Step 02: Then, connect your smart bulb into the app using proper instructions given by the manufacturer.
Step 03: Once your tp-link bulb is working properly, you can check your smart bulbs mac address easily. To do that, log into the kasa app and then click the 'setting' button in the top right corner.
Step 04: Inside the settings panel, there is a section called 'device info'. You have to click that too.
Step 05: Inside the device info tab, you'll find the TP-link smart bulb's mac address.