Loosing ones valuable can be search a detrimental experience. You might end up missing out on opportunities due to lost documents. Luckily, the worry of loosing your stuff forever is coming to an end.
From the moment Apple released AirTag devices on 27th April, 2021, more and more valuables are being tracked with the help of amazing community of Apple users.
Keep reading this guide on "Everything we know about AirTag" to find out why you need this tracking devices.
What is an AirTag?
An AirTag is a tracking device that help keep track of your valuable belongings. This devices are setup in your phone through the find my app which can help you track the exact location your device is.
For example, if you attach the AirTag to your car keys, the app will notify you where exactly the keys are through a sound released by the device. Your find my app will also show you the direction you should go to get your lost valuable.
AirTags are available in different colors and a simple design. You can therefore slip it inside your pocket. The device is not only used in small stuff, you can attach it to your pet, bicycle, your kids school backpack, and other belongings.
In short, AirTag is just spectacular. I will take you through my 1year 1 month journey from the time I purchased my Airtag devices. You might find yourself ordering Airtag tracking device from Apple very soon.
AirTag features
Apple worked so hard in perfecting AirTag tracking devices. This device is light, simple and easy to setup. We will look into the unique features offered by AirTag in the table below.
| | |
| --- | --- |
| Specifications | Details |
| Features | SimpleDesignCustomizableLong lasting batteryLost modePrecisionfindingFindmynetworkoptionPrivacy     |
| Size | Diameter of 1.26 inches, 0.32 inches in height, and weighs 0.39 ounces |
| Colors | Variety of colors |
| Speaker | In built speaker |
| Battery | CR2032 coin cell battery |
| Sensor | Accelerometer |
| Price | $29 for one Airtag & $99 for four tags |
| Connectivity | BluetoothApple designed U1 chipNFC tap |
| Accessibility | Braille displayVoice overInvert colorsLarge text |
| Resistance | Water, dust, and splash resistant. |
| Compatibility and system requirements | Apple IDIPhone or iPod with OS 14.50 or laterIPad with an iPad OS of 14.50 or later |
| Ideal working temperatures | Between -4°F- 140°F |
 Design
An AirTag is build in a simple circular design around the CR2032 coin cell battery.
This devices come with a diameter of 1.26 inches, 0.32 inches in height, and weighs 0.39 ounces which makes it ideal even for  your child's back pack.
Colors and customization
You can access AirTag in a variety of colors. As for the identity or beautification, you can get your initials or your favourite emoji engraved on the device.
Lost mode
If you happen to misplace any belonging that is attached to the AirTag, you can use the lost mode feature available in the find my app. The feature will show you where exactly your AirTag is.
Lost mode app also come with a speaker mode that sends a signal to the AirTag. The AirTag will respond by activating the in built speaker which produces a sound.  
Precision finding
You can find where exactly your AirTag is provided it is in range using the precision finding feature.
Step 1: From your iPhone, open find my app
Step 2: Tap on the items bar
Step 3: Choose the AirTag you want to locate.
Step 4: Then tap find.
Precision finding will give you the distance and the direction towards your AirTag. However, you need to have the compatible Apple devices for this. Precision finding is compatible with;
iPhone 11, iPhone 11 Pro, iPhone 11 Pro Max
iPhone 12, iPhone 12 mini, iPhone 12 Pro, iPhone 12 Pro Max
If you don't have the above mentioned devices, you will need an upgrade to access the precision finding feature.
 Find my network
Incase you let's say leave your keys that are attached to an AirTag in a train, you can update your AirTag through the iCloud where the exact location will be detected. The AirTag will then be activated from any iPhone user who uses find my network.
If you are worried about your safety, don't be. Apple designed AirTag in a way, only you can see your location history. Suppose you leave the AirTag in a bus, the person closer to the AirTag will get a notification of a lost AirTag. The AirTag will also make some sound to notify you of a lost tracking device. Once you alight the bus, your phone will stop giving you notifications.
AirTag accessories
You can attach an AirTag to your car keys, backpacks, bags, wallets, bicycle, and any other item that cannot be tracked directly using a phone.
You can use the AirTag on your pets leash. However, it is not advisable to stick the tags directly to the pets skin or your baby. For your baby, you can use apple watch.
Compatible devices.
AirTag devices are compatible with any apple device with OS 14.50 and later. This means AirTag cannot work with any phone produced before iPhone 6.
Aside from that, the device to be connected to the AirTag should allow Bluetooth accessibility and Apple designed U1 chip. Unfortunately, you cannot connect your AirTag to an Android device.
How does an AirTag work?
Using AirTag to keep your belongings safe is very straightforward.
Once you have setup your device, the inbuilt Bluetooth feature sends a secure connection to your iPhone or iPad.
After a connection is made, the information received is then stored into iCloud for easy access.
Incase you lose your belongings, let's say your car keys, open find my app, then tap on the item you need to find, and click search.
You can find your lost item by using the lost mode found in find in my app.
If the item is in range, your iPhone will show you the exact direction and distance towards your item.
AirTag has an inbuilt speaker. If you cannot locate where your device is, click on the speaker icon on find my app and it will trigger the AirTag to produce a sound.
You can also use precision finding feature if you have iPhone 11 and the latest versions.
Suppose you lost your item in a public place is it hard to retrieve your item?
Retrieving a lost item is also supper easy. Thanks to the awesome Apple devices users all over the world.
Since the information of the AirTags is saved in iCloud, provided there is someone closer to your lost AirTag with the find my network, you can clearly pinpoint where your AirTag was last seen.
As for the person closer to the AirTag, they will receive a notification telling them there is a lost AirTag closer to them. They can then connect to you.
Suppose the person does not hear the notification, their phone will then start making a sound until they ditch the AirTag or go far from it.
If there are multiple users of find my network closer to someone with an AirTag, there will be no response. An AirTag will only make some sound when it's out of the pocket of the owner.
AirTag tracking devices are very tiny they can fit even in a wallet.
How do you setup an AirTag?
The first step after buying your AirTag is connecting it to your apple device. The process is straightforward, however, missing any step will result to an AirTag that is not working. I will therefore give you a detailed step-by-step guide on how you setup an AirTag.
What you need
An iPhone, iPod touch, or an iPad with iOS 14.5 or iPadOS of 14.50 and later.
Two-factor authentication turned on.
Find my turned on.
Bluetooth turned on.
Location services turned on
A strong Wi-Fi
If you have iPhone 11 or any latest versions, you can use precision finding feature. Go to settings, then privacy, then location services.
Scroll down and tap find my and turn on precision finding.
If you have everything listed, you can then go ahead and setup your AirTag.
Setting up AirTag
Step 1: Ensure you have everything listed above.
Step 2: For a new AirTag, remove the wrapping paper and then pull the tab to activate the battery.
Once the battery is activated, the device will produce a sound.
Step 3: Hold the AirTag device closer to your iPhone, iPod touch, or iPad with Bluetooth on. Tap connect.
Step 4: If you have multiple devices that you need to set, keep the rest away from your device until one is connected.
Step 5: Once the device is connected, you need to give each item a name. You can choose one from the list or custom name your device and give it an emoji then proceed.
Step 6: You can then register your AirTag with Apple ID.
Step 7: Press done.
Check in find my app to see if the device is detected. If any of the devices is not visible, repeat the process.
How to rename your device?
Step 1: Open find my app
Step 2: On the item bar, choose the item or emoji you want to change.
Step 3: Scroll down and tap on rename item
Step 4: You can choose a name from the list or custom name your device. Choose and emoji and the press done.
What to do if AirTag is not setting up?
You might have gone through the procedure laid above and yet your device is still not setting up. If this happens, one thing on your AirTag is not working as expected. Below are some tips you can use to fix the issue.
1. Make sure your device is ready for setup. Check if the Bluetooth, find my, and two-factor authentication are turned on. Also check if your apple devices are compatible with AirTag.
 2. If everything in step 1 is okay and it's still not setting up, check the battery. Replace the battery if you think it's the problem.
3. If the setup icon disappeared, you can restart or put your iPhone into sleep mode. Give it a few seconds and the icon will be back.
4. Ensure only one AirTag device is closer to your iPhone when setting up.
5. If it's still not setting up, restart your AirTag device.
How many AirTags can you connect to your find my device app?
Apple ID allows you to connect up to 16 Airtag to be monitored by one find my app. You can therefore keep track of 16 different items attached to an AirTag at the same time. The items ranges from bicycles, car keys, wallets, pets, and much more.
When renaming or naming each item, you can choose an emoji that will be displayed on the front of the AirTag. You can also engrave an initial with four letters for easy identification of the items.
Does an AirTag battery need to be charged?
A new AirTag come with a replaceable CR2032 coin cell battery that last for more than an year. Therefore it is not necessary to charge the AirTag device. Besides, it does not need a lot of power to operate.  If the battery is not working, you will need to replace the batteries.
Replacing the battery is not that complicated. This guide will give you a detailed step-by-step process how you replace AirTag Battery.
How long does an AirTag battery last?
According to the test done by Apple, CR2032 coin cell battery can last for more than an year without needing to be replaced. This is because, AirTags are not power hungry devices.
How to remove AirTag battery?
Since the battery life will finally come to an end one day, it is better if you learnt how to replace the battery. The following steps are precise and anyone can follow them for a successful replacement.
Checking the charge of the battery
The first step is to check the charge on your AirTag
Step 1: Open find my app.
Step 2: Tap on the item bar.
Step 3: Choose the items AirTag you need to check the battery charge.
Step 4: Check the battery icon and see the charge amount. If the charge is low, you will get a sign telling you low battery. You can then go ahead and replace the battery.
Replacing the AirTag Battery
Step 1: Press down the stainless steel cover of the AirTag.
Step 2: Rotatethecover anticlockwise until the cover does not rotate anymore.
Step 3: Remove the cover then the battery.
Step 4: Take a new CR2032 coin cell battery and place where the other battery was placed. The positive side should be facing up.
Step 5: Once the battery has been connected, a sound will be produced.
Step 6: Place the polished stainless steel cover back on top of the AirTag. Ensure the three tabs on the cover are in alignment with the three slots on the AirTag.  
Step 7: Rotate the cover clockwise till it cannot rotate anymore.
Once you have replaced a battery, you can use the steps provided above to check the AirTag battery charge.
Airtag battery replacement cost
Replacing AirTag battery is pocket friendly. A pack of 6 CR2032 coin cell battery cost something between $8-&10. And considering you only replace the batteries after one year it makes the deal even more enticing.
Airtag Review: Is it even worth it?
Before the grand release if AirTag on April 2021, there existed other types of tracking devices. Since a lot of people were psyched to buy this tracking devices, are they that special?
We will discuss some of the most extraordinary things you can only experience with AirTag.
What happens if I lose my Airtag?
From what we had discussed, you can access any of your lost items, provided they are attached to an AirTag. Another good thing is that you can keep track of up to 16 items using one single Apple ID. No other tracking devices can offer that.
So if you happen to lose you AirTag, it is possible to retrieve it. Thanks to million of Apple users worldwide. Since the information is saved on iCloud, you can use the find my network feature on your iPhone. The AirTag will activate any nearby device which will notify them of a lost AirTag.
Therefore, you can retrieve your lost items from anywhere. You can use precision finding feature in find my app and find your AirTag if they are in range.
Is an Airtag water proof?
So, what if my AirTag falls inside a pool or a water basin, will I have lost my money just like that?
If that's what you have been worrying about, I am happy to inform you that AirTag is water-proof.
Yes. You are not going to lose your hard earned money. Airtag, is made of silicone material which is water proof. Silicone is the same material used in Apple watches.
Are there any security concerns with Apple's Airtag?
Since your AirTag can connect to any Apple device that has an activated find my network feature, can someone see my information.
No. An AirTag does not have a screen that can show your credentials to anyone. They are operated from a connected device which is usually one. Unless you are sharing with a friend or family.
Therefore, only you can see the information of the AirTag. The person who gets notified of a lost AirTag will not know it yours. Even Apple cannot access your information.
So no need to worry of being stalked using AirTag. They are very secure. Besides, Apple do not ask for a lot of information when you are setting up.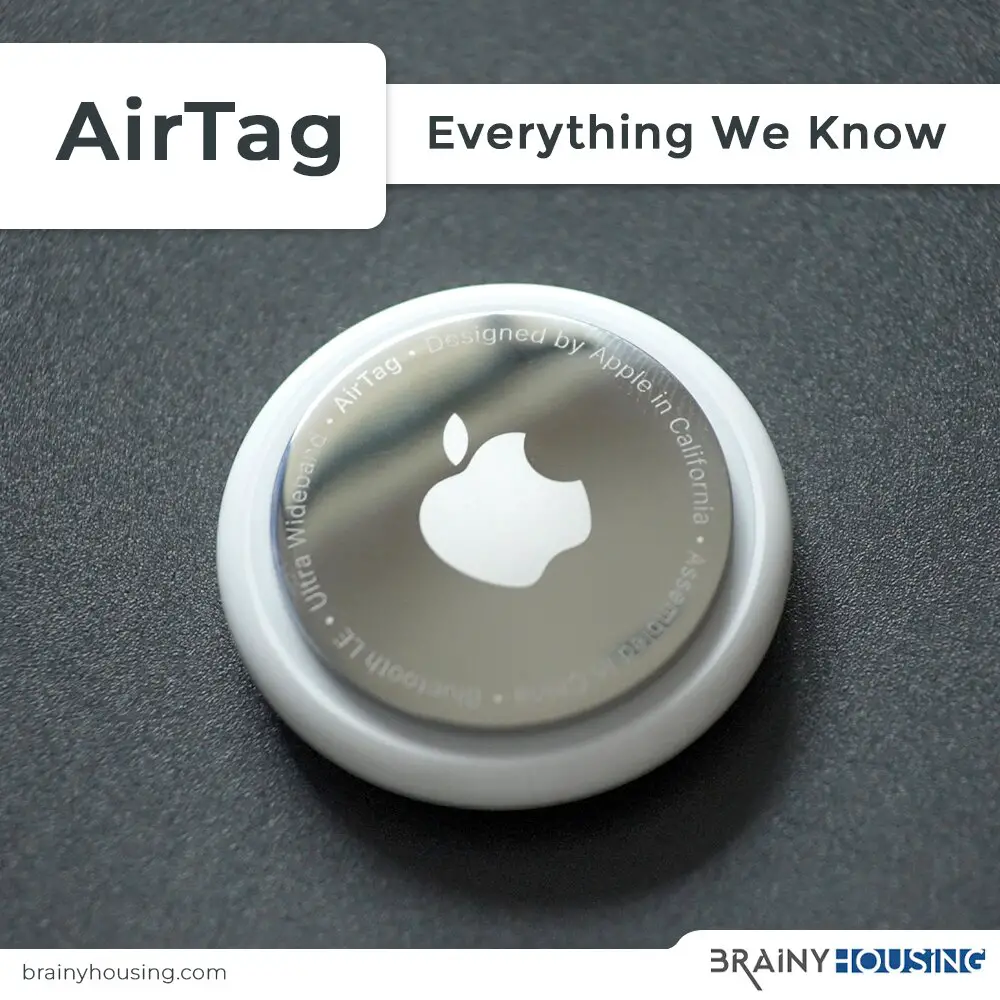 Is an Airtag even worth it?
Due to the amazing features offered by AirTag, I can finally declare that I have had quite an amazing experience with my AirTags.
Below are some of the things I have enjoyed the most about Airplay.
Price
Did I mention that no matter where you are buying, AirTag is sold at $29 for one device and $99 for four devices.
Considering what this devices are offering, there is no other device that can beat this price.
Size
No one wants to move around with large heavy items. Luckily, an AirTag can fit inside your pockets. Yes. You can even attach an AirTag to your pets leash. It is very small and unnoticeable.
Precision finding
As someone who keeps misplacing my keys, this feature is a game changer. I can use precision finding in my iPhone 13 pro and pinpoint directly where my keys are.
Find my network
You mean I will never lose anything forever? Yes. If you happen to lose your bag in a train or a pack, AirTag will activate a nearby apple device to show you exactly where your bag is.
Connectivity
Setting up does not require any complicated tech. With Bluetooth connection and a strong Wi-Fi or cellular connection, you can set your device.
Multiple items Connection
You can keep track of up to 16 items using one Apple ID. This is such a game changer.
Long lasting battery
Although, AirTag batteries last for more than an year, replacing them is even cheaper. Depending on where you are, a pack of 6 CR2032 coin cell batteries cost somewhere between $8-$10.
Although, there are other tracking devices in the market, AirTag takes the first position. AirTag offers so much and at a pocket friendly price. It's user interface is also very simple.
Aside from tracking lost items, Apple has patented and trademarked their new idea of developing a wearable AirTag that can be used to monitor health. Once these new iDevices are introduced in the market, I will be the first to give you all the juicy information about them. Consider subscribing to keep up with these new innovations.
Conclusion
Even with thousands of tracking device in the market, AirTag is one of the best tracking devices. AirTag offers so much unique and extraordinary features that are not offered by any other tracking devices.
If by any chance you want to buy an AirTag, the guide above will be of so much help. You will learn how ab AirTag works, how to set it up, how much it cost e.t.c.
One thing to not is that you cannot use AirTag if your iPhone, iPod touch, or iPad iOS is any version older than 14.50.
We will continue giving you new information about AirTags, so don't forget to subscribe before leaving this page.
References
Li, Q. (2021, December). Analysis of Innovation Opportunities for AirTag. In 2021 3rd International Conference on Economic Management and Cultural Industry (ICEMCI 2021) (pp. 1496-1498). Atlantis Press.
Heinrich, A., Stute, M., Kornhuber, T., & Hollick, M. (2021). Who can find my devices? Security and privacy of apple's crowd-sourced bluetooth location tracking system. arXiv preprint arXiv:2103.02282.