Every modern home looks like a hub of smart devices. You will find a home where every function depends on technology to operate. With these many smart devices, keeping up with each function independently might be such a huge hustle. Luckily, Google introduces an all-in-one smart devices tracking gadget: Google Nest Hub. 
Google Nest Hub is a screen that helps keep track of all your smart home operations at a glance. This way, you won't need a bunch of smart phone for each home function. Nest Hub has more functions even than Google Nest Speakers. 
In this article, we will discuss all about Google Nest Hub. This is what you will learn from the beginning to the end at a glance;
Google Nest Hub features
Google Nest Hub specs 
How to set up p Google Nest Hub
The best Google Nest Hub apps and how to install them
About Google Nest Hub max 
Apps supported by Google Nest mini 
And, comparisons between Google Nest Hub and Google Nest Hub Max
STAY TUNED!
What are google nest hub features?
Among all the Nest products, Google Nest Hub fulfills most of the functions that other Nest products fulfil. This is possible because of it's unique features that we will discuss below. 
Google Nest Hub has super sensitivity: Google Nest Hub detects the motion in the room to adjust. This means if there is someone at the door, it will detect the motion and notify you. It also works perfectly using the " Hey Google" command.
Nest Hub is very versatile: You can run up to 10 functions using this device. Nest Hub can satisfy the roles of other smart devices. It can also replace most of the home device such as TVs, speakers, traditional picture frames and others. 
Broadcast Messages: Instead of physically getting people from their rooms, you can use Google Nest Hub to broadcast Messages to your family members. 
Presence of an on-device machine-learning chip: Most devices jam on you which can disrupt your normal operation. 
The new models of Google Nest Hub has an on-device machine-learning chip to speed up Google Assistant. 
Automatic sleep tracking: Google Nest Hub can be used to switch off the lights when you sleep. It also lights up the bulbs when you are awake. This is possible because Nest Hub can detect any movement. 
Nest Hub detects how many times you move at night, how many times you cough and your sleeping position. 
What are google nest hub specs?
Dimension: Depth-67.3cm, Width- 17.85, Height-11.8cm, Power cable-1.5m.
Colors: Charcoal, Chalk
Display: 17.78cm
Speakers: Full range speakers
Connectivity: Wi-Fi, Bluetooth
Microphones: 2 mic array
Power: 15W adaptor
Sensors: Capacitive sensors
Ports: Dc Port jack
How to setup google nest hub?
Setting up a Google Nest Hub is very straightforward. If you have all the required tools you can use this video for connection purposes.
Alternatively, since you must install Google Home App,  you will find a complete step-by-step guide for setting up the Nest Hub. Below are the things you need to setup your Google Nest Hub;
A Google Nest Hub 
Google account
An Android phone Android version 6.0 or later, can work with 2.4 GHz and 5GHz Wi-Fi network, can connect to Bluetooth. Or, an iPhones or an iPad version 14.0 or later.
And, Internet connection
Once you have all the requirements you can then go ahead and set the Hub using the following process.
Step 1: Plug in your speaker
You should plug in the speaker or display direct if it's new. However, if the speaker or display was used before you should first factory reset the devices.
Step 2: Open your Google Home app
Open the Google Home app from your phone. Tap the Add icon, set up device, Add new device. You can then follow the steps given by the app. 
Your device might not have the setup device button. This should not worry you. If this is the case, tap get started, then set up new devices, create a new home, and enter your home nickname and address. You can however skip the address part. 
Step 3: Set up your other devices
Tap the add icon on the top left of you screen, set up device, New device and follow the remaining steps. 
Some of the settings like voice match are not that important. You can there for opt out of them. After you have finished setting up your device, you can change these settings to fit your needs. 
What are the best google nest hub apps?
Google Nest Hub is compatible with a lot of apps that can make your life at home very easy and enjoyable. Some of the common apps compatible with Google Home app include;
YouTube, Spotify, Pandora music
If you want to enjoy music on your Google Nest Hub, you can use YouTube, Spotify and Pandora. Once you link the app, you can then go ahead and use voice command to get most out of Google Hub Nest. 
Google Assistant
Instead of operating the device manually, you can install Google Assistant. Google Assistant will send you reminders for the things you have set. You can also use the same app to send commands to your device. 
Philips Hue
Instead of having to switch off the lights physically, you can install Philips Hue on your Nest Hub device and use it to control your home lighting system.
Todoist
Instead of using traditional methods of journaling, you can install Todoist app on your Google Nest Hub device. The device can remind you when a task is almost due. 
These apps cannot be installed directly into your device. You can the use ACTION feature to access this apps.
5.1 Install apps on google nest hub
Google Nest Hub does not allow you to download any app. You can use the Action feature to access the apps that are compatible with Google Nest Hub. However, in 2021, Google launched an app launcher that allowed you to access all the apps compatible with Google Nest Hub. 
5.2 Google nest hub max apps
Most of Google Apps
Since Google NEST Hub Max is compatible with Google Home app, you can access almost all Nest apps. Some of this apps include;
Google photos
Chrome cast
Google Home app
Duo Calling
Duo Calling is one of the high quality apps for calling. It is very simple, reliable and can be installed in Google Nest Hub Max. 
Netflix
Instead of waiting for your local TV to air a movie, you can use your Google Nest Hub Max to stream movies directly from Netflix.  
All the apps that works with Google Nest Hub including YouTube, Spotify, and Pandora are compatible with Google Nest Hub Max. 
5.3 Google nest hub side load apps
Sideloading means transferring files from one device to another in Apk form. You can transfer other Google apps from your personal computer into your Nest Hub. 
  You can download some apps from your iOS devices and use them on your Nest Hub.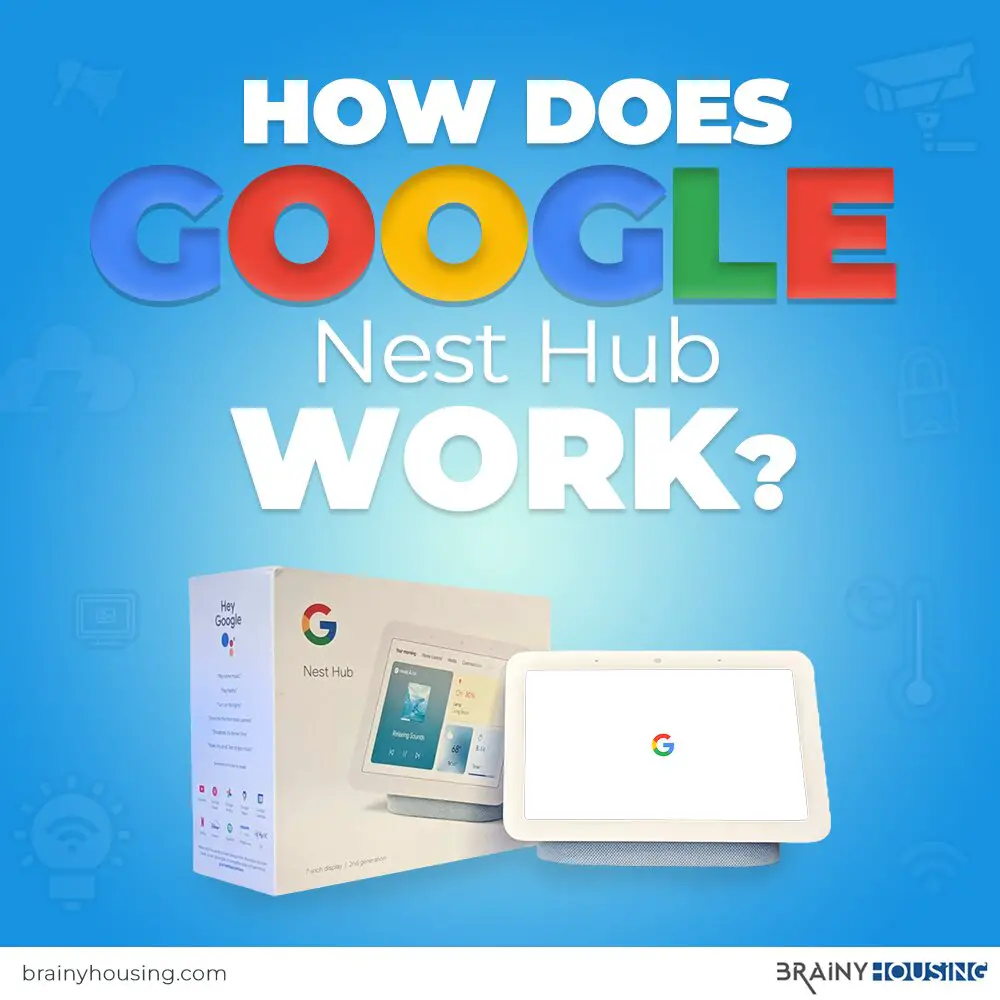 5.4 Google nest mini supported apps
Google Nest mini are tiny but reliable and affordable speaker from Google Nest. Despite them being very affordable, you cannot rely them to perform functions such as live music streaming from Spotify and other music platforms. 
You can however install Google Home app into your device and use voice command or the inbuilt Google Assistant feature to control the device. 
You can therefore access all the songs available in your playlist but you cannot download apps  directly on Google Nest mini 
6. Google nest hub vs max
Both Google Nest Hub and Google Nest Hub Max are some of the amazing creation of Google. This two devices have their similarities and differences. Some of their similarities are in; design, interface, and their features. The differences between Google Nest Hub and Google Nest Hub Max are discussed in the table below. 
| | | |
| --- | --- | --- |
| Specifications | Google Nest Hub Max | Google Nest Hub |
| Display | 16:10, 10-inch, HD and touchscreen | 7-inch, LCD and touchscreen |
| Size | 250.1×182.55×101.23mm | 178.5×118×67.33mm |
| Sounds | 2.1 speaker arrangements | Full range speaker |
| Camera | 6.5 MP nest camera | No camera |
| Features | Is compatible with Google Assistant, Netflix, YouTube, Chromecast, smart home control, Duo audio, Duo Video, Duo calls, digital photo frame, music, face match, gestures, and security camera. | Is compatible with Google Assistant, Netflix, YouTube, Chromecast, smart home control, Duo audio calls, Digital photo frames, music, sleep tracking, and gestures. |
Conclusion
Google Nest Hub is one device Google has outdone themselves. You can keep track of all your smart home operations like; Entertainment, security, sleep tracking, scheduling and cooling and heating functions in one device. 
Google Nest Hub and Google Nest Max are compatible with quite a huge range of apps ad shown in the guide above.
Was this article helpful?