You can engrave your AirTag using any words, initials, or emoji you want.
However, Apple restricts its user from using offensive words.
Why do you need to engrave your AirTag device?
Keep reading this detailed guide to finding out why and how you can engrave your AirTag devices. 
AirTag Engraving Ideas Update:7th July 2023
I have seen lots of new trends and examples coming for airtags these days.
Especially, really funny and cool emoji and letters have been engraved in airtags.
So, I started to create and curate the most demanding airtag engraving examples and updated the article.
Now you can browse my 55+ examples here. All are new and trending. Some of the emoji examples are pretty funny.
25 Personalised Airtag Engraving Ideas
HUGS – I'm lost, but I love hugs.
BRRR – It's cold out here, help me find my way back.
HELP – Self-explanatory, I need help getting back to my owner.
LOST – Yep, you found me, I'm lost!
CALL – Please call my owner, they miss me!
FIDO – Help Fido find his way home!
WOOF – Lost dog here, woof woof!
MEOW – Lost cat here, meow meow!
HOME – Take me home, please!
KITTY – Help Kitty get back to her owner!
DOGG – Lost dog with an extra "G" – help me find my way!
MINE – I'm not lost, I'm just taking a break!
WHERE – Where am I? Can you help me find my way back?
HERE – I'm right here, come get me!
LOOK – Look out! I'm lost and need your help.
SIGH – Sigh…I can't find my way back home.
FIND – Help me find my way back to my owner!
HOME – Help me find my way home!
GONE – I'm gone, help me get back!
OOPS – Oops! I got lost, can you help me out?
HELP – Another plea for help finding my way back.
SAVE – Save me! I'm lost!
SEEK – Seek and find me, please!
YOLO – You only lose once…help me get back!
PETS – Help me find my way back to my beloved pets!
10 Personalised Airtag Emoji Engraving Ideas
"BFF 😍" – for a set of AirTags to share with your best friends
"DAD ❤️" – to help your dad keep track of his important items
"FOB 🚪" – for your key fob or other important keychain item
"MOM ❤️" – to help your mom keep track of her belongings
"PET 🐾" – for your furry friend's collar or leash
"SIS 💕" – for a set of AirTags to share with your sister
"GYM 💪" – for your gym bag or other fitness gear
"TRV 🌎" – for your luggage or travel essentials
"CAR 🚗" – for your car keys or other car-related items
"WFH 💻" – for your work from home setup or important electronics.
10 Funny Airtag Emoji Engraving Ideas
LOL 😂 – Lots Of Luggage
OMG 🤣 – Oh My Gosh!
BFF ❤️ – Best Friend Forever
TMI 🤫 – Too Much Information
VIP 👑 – Very Important Package
BBQ 🍔 – Barbecue Beacon Queso
UFO 🛸 – Unidentified Flying Object
ODD 🤪 – Oddly Disturbing Device
HUG 🤗 – Hugs U Great
BOO 👻 – Boo! Who Goes There?
10 All Emoji Airtag Engraving Ideas
🌮🔑💸🚽 – "Taco Tuesday Key, Money & Toilet"
🍔🧻🎮🥤 – "Burger, Toilet Paper, Gaming & Soda"
🚀🌌🪐👽 – "Rocket, Galaxy, Planets & Alien"
🍩☕️📚💻 – "Donut, Coffee, Books & Laptop"
🧑‍🦲👓🌴🏄‍♂️ – "Bald with Glasses, Palm Tree & Surfer"
🦄🌈🌺🌞 – "Unicorn, Rainbow, Flower & Sun"
🍺🍔🍟🏈 – "Beer, Burger, Fries & Football"
🎤🎧🎹🎸 – "Microphone, Headphones, Piano & Guitar"
🤪🥴🥳🤩 – "Silly Face, Wobbly Face, Party Hat & Star-Struck"
🧟‍♂️💀🪦🔪 – "Zombie, Skull, Graveyard & Knife"
🍔💩🏃‍♂️ – "Burger Thief On The Loose!"
🍷👑💃 – "Wine Queen In The House!"
🐶🔍💩 – "Finding Rover's Hidden Treasures!"
🎬🍿🚽 – "Movie Buff With A Bladder Issue!"
🌮🔥💀 – "Too Hot To Handle Spicy Taco Lover!"
🚀👨‍🚀🌕 – "Lost In Space But Found By Airtag!"
🍕💤💻 – "Pizza, Sleep, Repeat – Work From Home Life!"
🐟🎣🍺 – "Fishing, Beer, And Good Vibes Only!"
🎮🕹️👨‍👧‍👦 – "Gaming Dad/Mom On Duty!"
🛀🧼👻 – "Ghost Hunting In The Shower!"
21 Most used AirTag Engraving ideas
Now that you know why you should engrave your Airtag, how to engrave your Airtag, and where you can use an Engraved AirTag, I will give you 21 AirTag Engraving Ideas you can use on your device. 
What about A smiley face emoji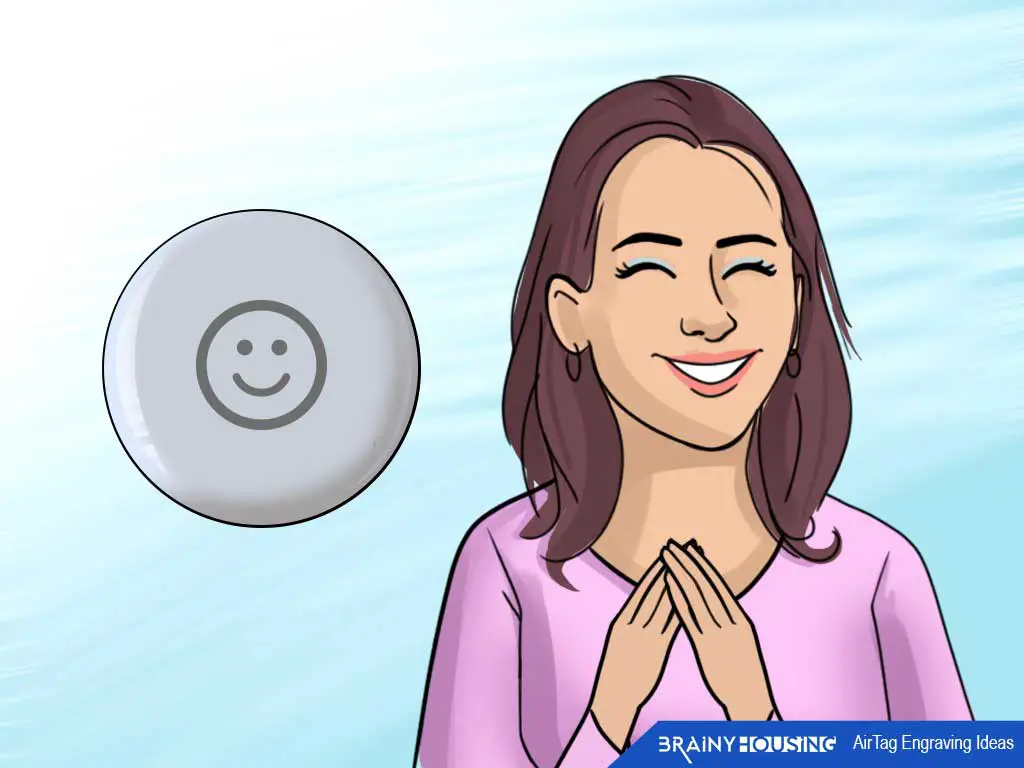 Nothing beats a cute smiley emoji on your AirTag. A smiley emoji is one of the most common engravings on AirTags and it will never run out of fashion. 
A smiley face will always bring you some joy every time you look at it on your AirTag. 
You can add one smiley emoji to make it look bigger or a number of Smiley Emojis to add to the mood.
Your name
If your name is short enough, it will perfectly fit on your AirTag. An AirTag will fit up to 6 characters. 
Your dog's name
If you are engraving an AirTag for your dog's leash, you can put your dog's name or its initials on the AirTag. This way, anyone can easily identify your Dog if it gets lost. 
Your goal
How about using your AirTag as your dream board? Engraving your goal will help keep you focused on what you are aiming for every time you look at your AirTag. 
Engrave numbers 
If you have a number of AirTags, you can decide to number each of your AirTags. For example, you can give your AirTags numbers 1,2,3,4….16 e.t.c
Engrave your Accomplishments
You can engrave some of your most proud moments like an achievement you had in the past or recently.
This way you can keep being motivated to work for more. 
Promote your brand
If you have a brand of your own, you can engrave the name of your business on your AirTag.
This way, if anyone finds your lost AirTag, they will be aware of the existence of your brand. 
Engrave your child's initials on the AirTag
If you are attaching an AirTag to your kid's school backpack, you can engrave your child's name or initials.
This way if your kid loses their bag, it can be easily identified. 
Spice up your love for a football team
For those who are big supporters of football, there is nothing that would show loyalty like engraving the name of your favorite football team on your AirTag. 
Your partner's name
Show some love to your boyfriend/girlfriend/husband/wife by engraving their name on your AirTag.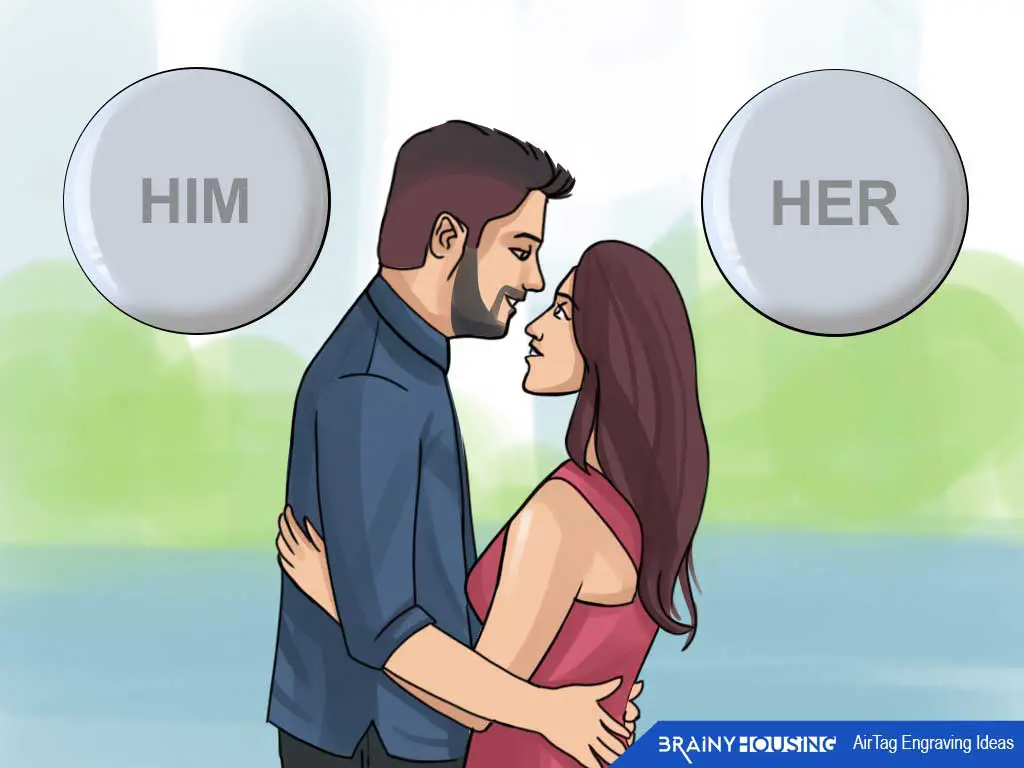 This way, you will always smile every time you see their name on your AirTag. 
Your Birthday or your partner's birthday
If you are one who keeps forgetting your birthday or your partner's birthday, you might as well engrave it on your AirTag. 
Your four lucky numbers
Almost everyone believes in lucky numbers. And surprisingly, they always come in four.
If you are one of the people who believe in lucky numbers, you can engrave your lucky numbers on your AirTag. 
Name of the device you are attaching your AirTag
Instead of struggling to come up with different initials, numbers, or Emojis, you can use the name of the device you want to engrave. 
For example, Bag for your Bag's AirTag, or Bicycle for your bicycle's AirTag. 
Engrave your pets emoji 
There are quite a number of Emojis including those of animals. If you have a cat, you can engrave a cat emoji or a dog emoji. 
Engrave your parent's name
You can keep it simple by engraving the word mom with a heart emoji, or Dad with a heart emoji. 
Engrave a bunch of Emojis
There is no rule as to which emoji you can engrave on your AirTag. You can pick a bunch of Emojis and engrave them on your AirTag. 
Engrave the date you purchased your AirTag
An AirTag is one of the most Precious devices you can get for yourself and others. For that reason, you can put the date you purchased your AirTag on your AirTag. 
Engrave your city or state name
If you are a patriot or want to direct people to your city Incase your AirTag gets lost, it will be identified as a device that belongs to which state. 
Motivate yourself using a motivational message
Words like I can do it will encourage you to believe in yourself more even on days you are not up to living.
However, the words should not be more than 6. 
Your favorite color
You can just engrave your favorite color on the face of the AirTag device. It does not matter if the color name matches the physical color of your AirTag
A message
You can type a message such as keep me on your AirTag in case someone finds your AirTag by mistake. 
Why do you need to engrave your AirTag device?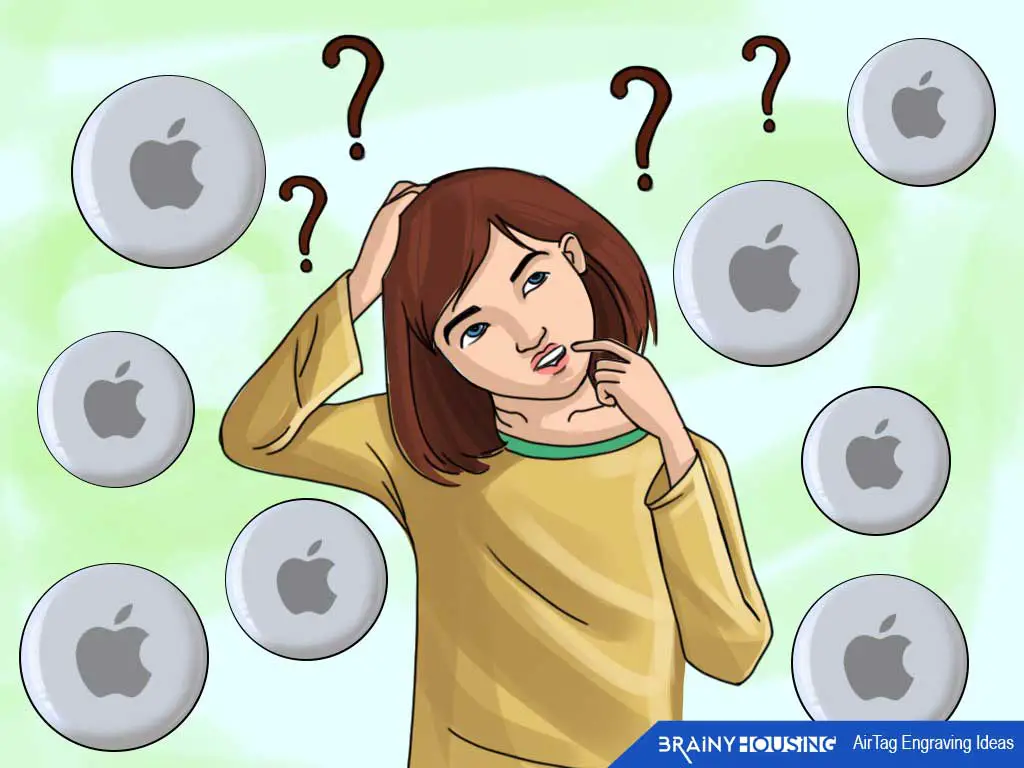 Losing your most valuable stuff can be so detrimental especially if it is things that you use every day.
For instance, losing your car keys when you need to leave the house can inconvenience you big time. 
Fortunately, Apple has always come up with solutions for everything. No wonder almost every person is striving to switch to apple devices. 
For our case of losing your valuables, on April 2021, Apple released a tiny and very effective device known as an AirTag. 
One AirTag device can be used for one device. If you buy one AirTag which cost $29, you can only keep track of only one item,
Let's say your car keys. However, to get the best deal, you should buy 4 AirTag devices for $99. 
According to the Apple website, If you buy from Apple, they will do FREE ENGRAVING.
With this new deal, you can buy quite a number of AirTags for different items like your house keys, your child's backpack, your pet, your bicycle, and so forth. 
Another big advantage is that you can connect a total of 16 items to one Apple ID. That means, on your iPhone, you can track 16 items at once. 
Due to the large number of AirTag connected to your Apple ID, it is possible to get confused when searching for your items.
For example, if you want to track your lost bicycle, you need to know how you have saved the AirTag that is tracking the bicycle.
Otherwise, you will not access your bicycle. 
So, if you have a total of 16 items, you will need to engrave each AirTag with a different symbol to avoid confusion.
How do you engrave your AirTag?
Once you have bought your AirTag, it is up to you to treat it how you want.
You can decide whether to engrave it or not.
However, for the sake of reducing confusion when searching for lost devices, it is better you engrave your AirTag. 
You can put any initial on your AirTag such as your name or your favorite emoji.
The only issue is that there is a limit of four letters.
With the recent turn of events, Apple is now limiting the engravings you put on your AirTag device.
Offensive words are some of the things you cannot put on your AirTag device. 
So how do I go about engraving my AirTag?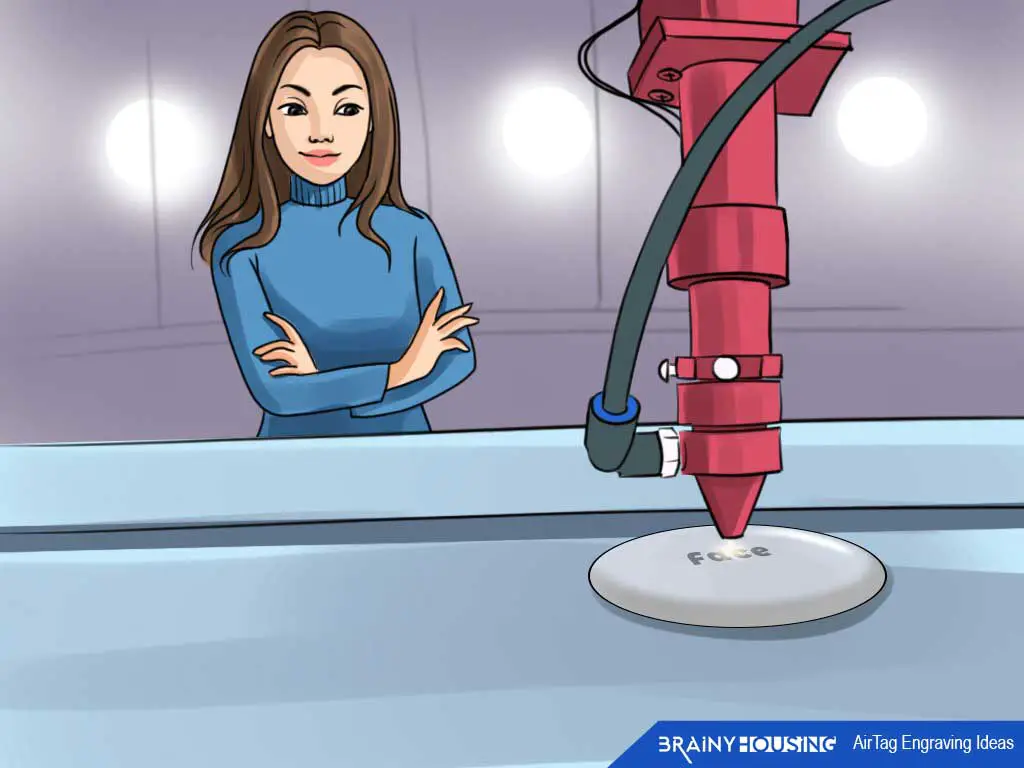 To start off, AirTag engraving is free provided you have your AirTag. 
Step 1: Open Find my app on your iPhone.
Step 2: Select the AirTag you want to engrave from the items tab. 
Step 3: Choose and rename your AirTag. 
Step 4: Choose from the 31 available Emojis from the list. You can also put any text or numbers on your keyboard. If you put more than 6 characters and 5 Emojis, your AirTag will display a red signal saying your characters cannot fit. 
Step 5: After you have renamed your AirTag you should tap on save. 
Step 6: If you have multiple AirTags you can put different symbols to avoid confusion. 
Step 7: Alternatively you can get your AirTag engraved before it gets delivered to you. However, this will take longer than getting an AirTag that is not engraved.
Engraving your AirTag device is easy and free. It will also give you an easy time identifying which AirTag is engraved with what symbol. 
Which items should you use an Engraved AirTag on?
There is no rule that restricts you from using an AirTag anywhere.
You can decide to place it even on your car. Combined with an appealing engraving, you will be having two benefits at a go.
Here are some of the items you can attach an AirTag to:
Your phone
Wallet
Purse
 MacBook
Bicycle
Car keys,
Pets leash
Your car
Kids school backpack
Your laptop bag
And other items. 
What not to engrave on your AirTag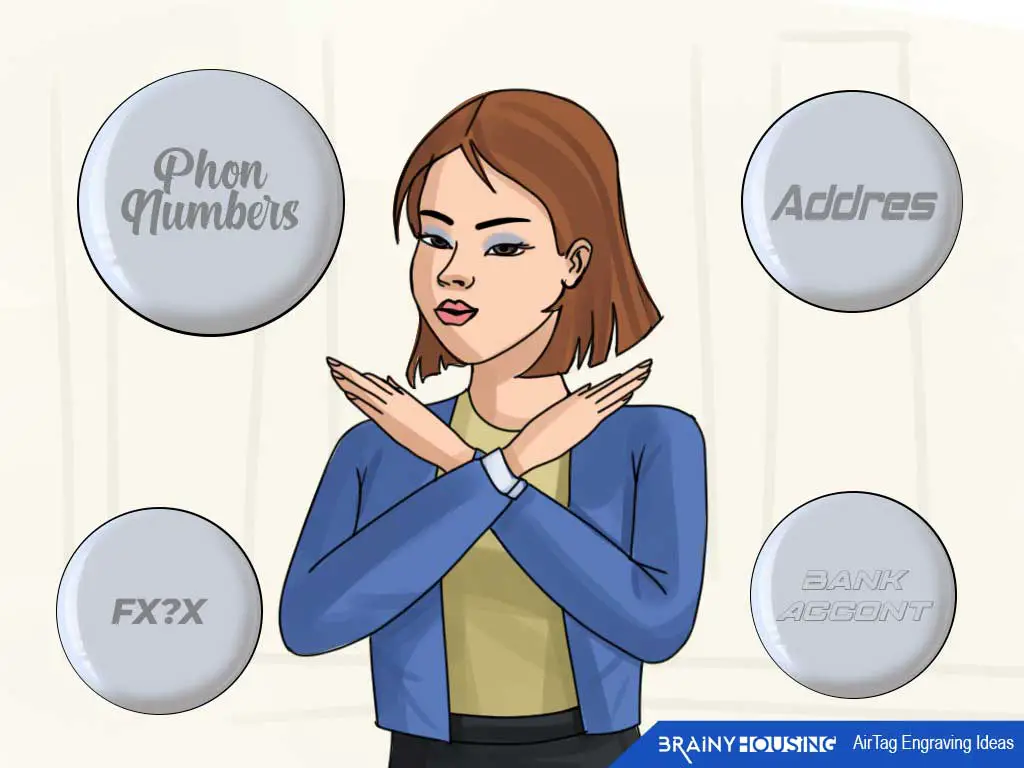 Although the list of what you can engrave on your AirTag is unlimited, there are some words Apple will not entertain for engraving.
According to Forbes, some of the engraving you cannot put on your AirTag include;
Putting your home address on a device is the worst idea you can have for an AirTag engraving. If by any chance your AirTag gets into the hands of malicious people, your life can be threatened. 
Your bank account numbers:
With the increasing cases of theft, you should not at any chance use your bank account number on any device let alone your AirTag device.
Your account number might be fraudulent without your knowledge. 
You wouldn't want to get stalked by psychopaths if they happen to get your phone number by chance.
Always keep your phone number to yourself or your family. 
Your child's school name:
Never ever puts your child's information on any device especially not their school. Malicious people might use that as an advantage and kidnap your child. 
Even though you have the freedom to engrave whatever message you want on your AirTag, do not put offensive words as engraving on your AirTag. 
When can I Engrave my AirTag?
Apple allows AirTag buyers to engrave their AirTags during the time of purchase and not after purchase. 
The option to engrave your AirTag is completely free and available online. It is for this reason, Apple can limit the type of engraving you can put on your AirTag.
Engraving your AirTag device will definitely take longer before you receive your AirTag device. 
Apple also allows the involvement of third parties for engraving. However, if you do so, you risk losing the AirTag benefits. 
How long does it take to engrave AirTags?
The time taken to engrave your AirTag depends on a number of factors. 
For starters, buying engraved AirTags will take 4-5 days before it gets to the owner.
This is because engraved AirTags come direct from the factory in China. While Non-engraved AirTags can be gotten from the source country. 
So, if it is during high seasons and a lot of people need their AirTags engraved, it will definitely take longer than you may expect.
Can I return an engraved AirTag?
According to Apple return policy, Apple does not allow the exchange of engraved AirTags. You can however return the engraved AirTag and get a refund from Apple. 
So, if by any chance you want to return your engraved AirTag, it should be within two weeks of purchasing. If you still need an AirTag, you can repurchase another AirTag using the money you will receive from Apple. 
Is it possible to change the engraving on my AirTag?
You can change the engraving you had chosen earlier on your AirTag if the order still reads processing or order placed.
However, if the order is already processed, there is no way you can change the engraving not unless you return your engraved AirTag. 
Is Engraving my AirTag worth it?
Every good thing comes with its downside. AirTag engraving also comes with its advantages and disadvantages. 
Pros 
It is easy to identify your AirTag
You can gift an AirTag with a special message to special someone
Thieves won't steal an engraved AirTag
You can personalize your AirTag. 
Cons
You cannot resell an engraved AirTag
It is impossible to gift someone an AirTag engraved with a personal message. 
Delivery of engraved AirTags take longer than delivery for non-engraved AirTag. 
Although engraving your AirTag has its downside, it is still important to engrave your AirTag.
That way, nobody will steal your AirTag. Besides, a lost AirTag will be more easily identifiable than a non-engraved AirTag. 
Aside from the common AirTags available in the market, Apple has a lineup of premium versions of AirTag. AirTag Pro will be retailing at $59 and AirTag Max will be retailing $79. 
Keep up with me by subscribing to my page so that you get to know when this amazing device is out in the market.
You will get to learn what makes them more special than the existing AirTags.
Conclusions 
Engraving your AirTag can be both beneficial and disadvantageous at the same time.
Since Apple allows one to connect up to 16 items to one Apple ID. This can make things tough to identify which AirTag is for what device. 
If you happen to have many AirTags, you can reduce the hustle of cramming which AirTag is for which item. You can engrave anything you want, provided it is ethical and not threatening the safety of your family. Your home address, phone numbers, and vulgar words should not be used as engravings. 
Another thing you should note is that you can only engrave your AirTag when the order is still under processing and it will take us up to 5 days before you receive your delivery. 
Although engraving your AirTag is beneficial, it has its downside too. You cannot gift or sell your AirTag if it has some personal message engraved on it. You cannot also exchange an engraved AirTag but you can return the device and get a refund. 
If you have no idea what you want to engrave on your AirTag, my guide above will give you some ideas which you can use to customize your AirTag. Remember, engraving AirTags is free and can be done online. However, if you decide to involve third parties, it is possible but you will lose your Apple Guarantee.
AirTags are not the only thing we speak about on this page. We deal with all the new innovations that can change your life tremendously. Keep up with me by subscribing to this page to keep learning more about the tech world. 
References
Chung, W., & Busby, Z. (2022, March). STRATEGIC DATA ANNOTATION TO FACILITATE AI-ENABLED NEWS ASSESSMENT: THE CASE FOR APPLE AND TESLA. In 9th Annual Conference March 24-25, 2022 Hosted by Eastern Kentucky University Richmond, Kentucky (Vol. 2, p. 20).
Hattori, K., & Kagawa, T. Parasite Sensing 2—Study on the possibility of measuring human flow using the Apple AirTag. IEICE Technical Report; IEICE Tech. Rep.
Hong, J. (2022). Modern tech can't shield your secret identity. Communications of the ACM, 65(5), 24-25.