Many a device around the house and certain other locations would function optimally when under a regulated temperature. You do know that, don't you? And thanks to Nest Lab, the optimization of our heating and cooling system has been made easy with Nest thermostat.
Studies show that the Learning/Smart thermostat market in North America is steered by Nest. So before we go any further, let's just find out why. Well, Nest thermostat demonstrates a great deal of compatibility with various systems. Also, its usage cuts across several countries.
They're very effective in the usage of conserving energy in the house. In addition, they have become readily available since the company started partnerships with energy companies.
Back to what I was saying, you're just leaving money on the table if you ignore the Nest thermostat. Don't let this be you. On the average, your nest thermostat would reimburse before the end of two calendar years. 
Well then, we've made the journey easier for you by providing you revealing sections about Nest thermostat. Take a look!
What is Nest thermostat, and How does it work?
If I may say, the Nest thermostat has been around for the last nine years. And, that's quite extraordinary for such a technology.
The nest thermostat is a programmable electronic device designed to manage the heating and cooling of residential buildings, including business buildings. Interestingly, the thermostat is built to be smart. In order words, it makes use of a machine learning algorithm.
Everything from the auto away features to the third party compatibility, high-resolution display, auto schedule, farsight and monthly energy report; the nest thermostat would serve you well. Most of all, you've already been equipped with everything you need to set the device rolling, right there in the package.
Nest thermostats are easy to set up and to use. They also come in different beautiful colors. Wouldn't be great if you know how they work? Well, for the early weeks they are newly introduced, you would have to regulate it. After that, the nest thermostat would learn your schedule and operates henceforth around it.
To top it off, the Nest thermostat is available in different generations and versions. Check the table below to have an insight into this information.

| | | |
| --- | --- | --- |
| Nest thermostat generation | Version | Year released |
| First generation | 1.10 | 2011 |
| First generation | 1.12 | 2012 |
| Second generation | 2.6 | 2012 |
| Second generation | 2.8 | 2013 |
| Third generation | 3.4 | 2015 |
| E generation | 4.x | 207 |
| New generation |   | 2020 |
Remember this: You would always need a good internet connection to enjoy this device. Also, weather factors like rain and snow can get in the way of the internet connection causing nest thermostat to malfunction.
Is the nest thermostat worth it?
But, Nest thermostat is pricey! I know, I know! Nevertheless, if we take a good look at its solid built, learning feature, durability and break even, the nest thermostat is what everyone should have
Aside from that, the nest thermostat is one of the best smart thermostats worldwide. This is due to regular improvements taking place.

How to set Nest thermostat to hold temperature?
Sure enough, you've got an inspiring rundown of the nest thermostat. So, what's up next? You probably want to know how to set a schedule for your nest thermostat. No worries! We've got you. Let's jump right in.
Step 1: Turn off auto schedule
The nest thermostat has a feature known as an auto schedule, and as long as this feature remains activated, your nest thermostat would not hold temperature. In essence, you have to switch off the auto schedule on the thermostat or the nest app.

To deactivate the auto schedule on the nest thermostat, visit your thermostat schedule screen and press the ring. Proceed to select settings on the screen> auto schedule> off. It's that simple.
On the nest app, select nest thermostat you want auto-schedule off. Choose settings> auto schedule> off.

Step 2: Clear existing schedule
Once you've cracked step 1, you can then remove your basic schedule on your nest thermostat. Although this kind of optional, you can skip this step and proceed straight to step 3 if you'd love to retain your existing schedule.
However, to get rid of your actual schedule, opt for Settings> Clear/Reset> Schedule on your nest thermostat.
Step 3: Set desired temperature
Now, you would have to create the temperature point you want your nest thermostat to hold. Go to your thermostat schedule screen and tab the ring. Choose schedule and set your preferred temperature set point.
Check this YouTube video for the practical session .
Why does the nest thermostat keep changing temperature?
According to nest, the thermostat has a learning feature that helps the thermostat study your daily activities and adjust around them.
So what does this mean? The auto schedule in your nest thermostat is the reason it keeps changing temperature. Got it?
How do I stop nest from changing temperature?
Yes, you can stop your nest thermostat from changing temperature. Here's the thing. All you to do is to deactivate the learning feature.
Another alternative you've got is to delete the temperature set points you're not okay with. This might not be a very effective solution, but it's an option if you do not want to turn off auto schedule.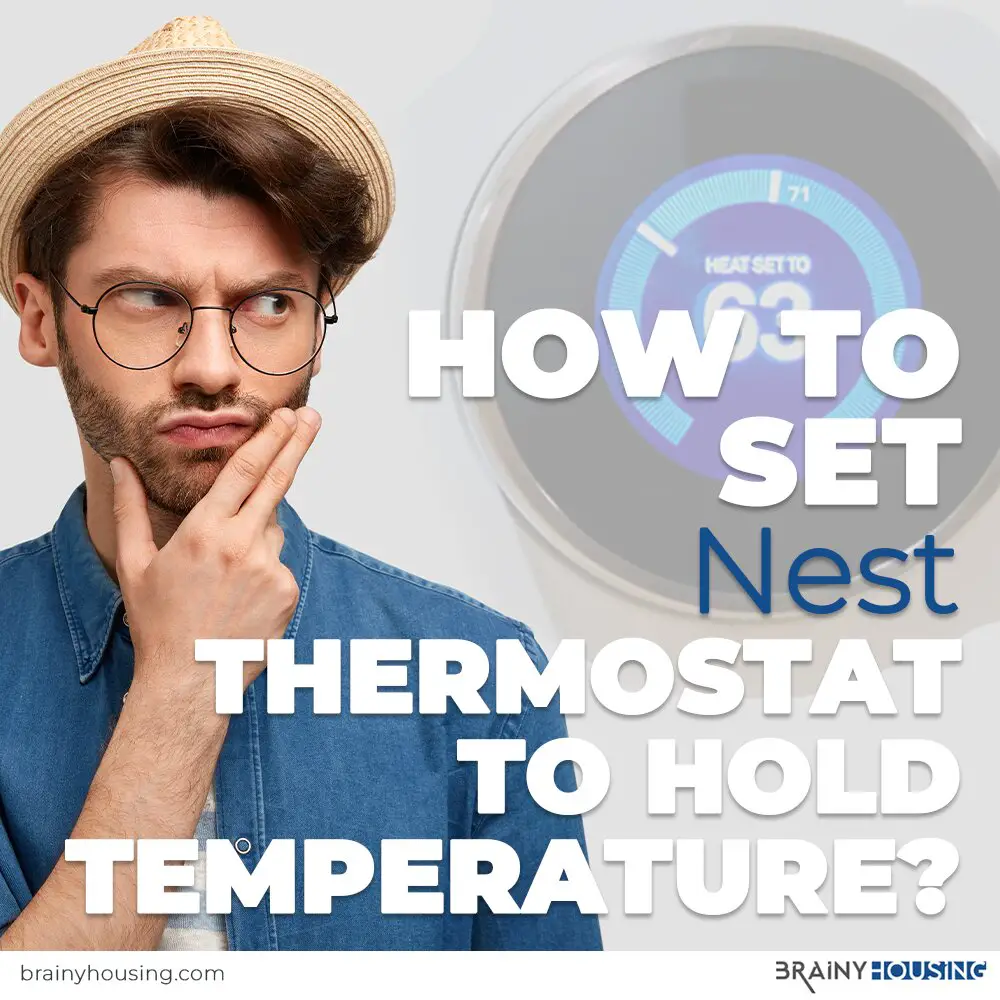 How do I keep nest at one temperature?
Are you interested in keeping nest at one temperature? Well, then, you can get at it with ease. It all comes down to turning off the learning feature and creating your desired temperature point.
I would recommend you see through the section that talks about this. Hopefully, you won't be disappointed.
Conclusion
Seriously, you would be doing yourself some good if you go for the nest thermostat. When you talk about energy saving on cooling and heating, it's the best you can find.
What about money saving on cooling and heating around the house. Nest thermostat is your number 1 for that. The best part is- it provides you monthly report of how much energy you use up and in what manner. Thus, a perfect energy caution for you.
Nevertheless, it's down to you. Should you eventually decide on nest thermostat.
Was this article helpful?