Among many smart devices, Amazon Alexa or Google Home is the most crucial point to connect all the smart devices.
Further, those are the ones that will stay online all the time.
Therefore, it is quite normal to concern about the data usages for the longer run.
However, it seems there are several users who complain about the additional data usage of Google Home only.
Likewise, in these complaints, does Google Home use lots of data?
No. It does not. Google Home is just a smart hub that connects all the smart devices. It uses a relatively low amount of data. However, if you have a defective product, it could raise your monthly data amount.
So, that means, if your monthly data amount seems unnatural, there could be possible other reasons that you need to be aware.
The Google Home app displays how much data your gadgets upload and download. Devices that have been on the network in the previous 30 days will be shown even if they aren't presently connected. Amazon Alexa and Google Home are the most significant connection points for all the smart gadgets, among many others.
Here we have also discussed about the how much data does google assistant use so let's get started.
How much data or bandwidth does google home use? Under limited devices
Google home along will not take much traffic or consume much data.
It uses tiny amount of data to control all the devices.
However, with the amount of connecting devices, the total data amount can be different.
Before going into the reasons that could raise a high data amount, let's check the data usage for a typical google home network.
As an example, let's say there is a small smart house with one google home device, one smart thermostat, three smart bulbs, and two smart plugs.
So, altogether 7 smart devices. 
 To properly work all these devices, it will require a minimum bandwidth of ~5 Mbps. This is considered as low bandwidth.
Now, let's assume that we will give instructions continually and make our smart devices quite busy for one hour.
That means we will utilize our 5 Mbps bandwidth fully for a one-hour period.
Then the rate for consumed data will be 0.625 MB/s. In other words, ~2.2 GB amount of data will be used from your monthly data quotation.  (you can use this online calculator for the conversion of Mbps to MB/s)
The actual amount of data could be around 5 to 10 % of this.
That is because we do not interact with them all the time.
So our bandwidth will not be used at its maximum potential.
Based on this approach, if we calculate our monthly data usage for the above mentioned smart home network, it should be around ~ 10-20 GB (10 hours per day for 30 days)
By the way, when I compared with other famous smart hubs, it seems they consume less amount of data rather than Google Home and its products.
So, if you are facing a problem with monthly data more than above-mentioned range, then there could be an alternative reason behind it.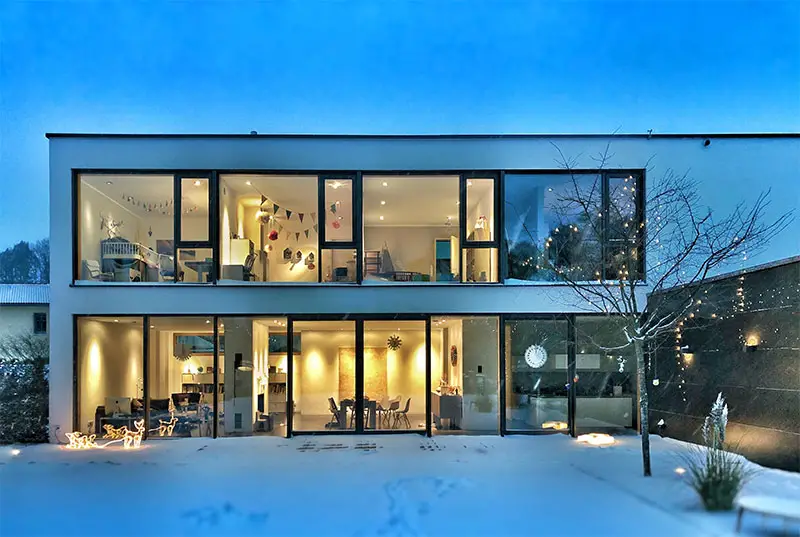 While Not In Use, How Much Data Does Google Home Consume
Specific Google Home customers have reported a large number of megabytes. Our best guess is that this is a misstep. When you ask Google Home about the weather or even the latest news, it constantly pulls data from the internet. Still, it is terrible to use so many gigabytes and nearly your whole network capacity.
The tool you choose to collect and analyze data has a significant impact on the results. You may be interested to know that many router manufacturers have a poor record of accomplishment of providing accurate information.
However, let us imagine the ideal situation. During a week when you do not use your Google Home, your internet ingestion should not exceed 100 MB.
It does not matter what tool you use, as long as you achieve better results. Inquire about the outcome.
A less typical issue is that the internet access may have dropped out when Google Home was doing an update. Your device will halt the process and restart it from the beginning for your safety! Having to download an update at least twice, if not more!
Is Google Home Listening To All The Time?
After learning that Google Home uses WiFi even while not in use, the thought immediately came into our head. Having a smart speaker means, you can use it whenever the internet is functioning. To get your clever companion to wake up, all you have to do is ask the correct speech command.
To begin operating, Google Home is constantly listening to its surroundings for a voice command. Every time you or your family members say "Hey Google" or "Okay, Google" to Google, it is compared to all the data gathered.
In addition, compared to Amazon's Alexa and Microsoft's Cortana, this voice-activated assistant is much more intelligent. Click here to learn why Google Assistant beats Amazon's Alexa at her own game.
While this may seem like an invasion of privacy, it is not. To avoid receiving an influx of lawsuits, Google does not save any personal information.
Is Your Internet Speed Slowed Down By Using Google Home?
Okay, Google, you are constantly listening to what's going on around you! But will you shut off my internet? This question requires us to take a step back & think about our internet bandwidth, which is how many megabytes our internet service provider gives us.
How come? As an example, if you have a connection that ranges from 1 – 3 Mbs and multiple cell phones are plugged in at your residence, you have also connected a Google Home device to the network. This is going to be a significant strain on your resources!
Google Home is designed for a household with a high-speed internet service. In other words, a quicker connection means a faster answer.
Idle mode is still utilizing your WiFi. Therefore, it might slow down your internet connection. To put it simply, this mode allows your visitors to temporarily connect to it and stream content or utilize google home data usage on their own. Your Google Home's data use will skyrocket if you leave it in Guest mode. It is time to quit if you want to watch 4K movies on many devices or play online games. An unnecessary function that should be turned off at all times.
Possible reasons for the high amount of google home monthly data usage
The high amount of data could be any for several reasons.
To address this matter, you need to know what are the ways that your google home could eat those data.
So let's find them out.
Playing music all the time
If you are a music lover, then probably, you may listen to music all over the day.
Even you are listing to mp3 versions of the songs; it can consume 100 MB per hour, at least.
If you are using a video screen to listen to songs, then that could eat much more data.
Defective smart devices
Including google home itself could be defective in some cases.
Most of the time, it could be a software crash or software update crash that could constantly try to download files.
You can easily find the defective product by turn on and off each product while monitoring the data usage for a known amount of time.
Continues video stream
If your google home network consists of video streaming devices, such as security cameras, video-enabled doorbells, and baby monitors, then those could eat more data too.
You need to check their video stream settings. By default, they could be 1080p.
If so, reduce that into a lower value and adjust the settings to a proper level that does not consume much data during the day.
Hacked smart home
Even though this is not a general case, it should not care less.
Sometimes, a smart home hub, like google home, could get hacked by a virus or Trojan that may continually feed data to an external server.
So, ultimately increasing data amount in your monthly quota.
If you suspect something like this, then reset each and every device and reinstall everything from A to Z.
What are the smart devices that could consume a higher amount of data?
Well, let's go through the data consumption of the most common devices.
Then you can find out what are the devices that need to be monitored in your google or Alexa smart home network.
Smart Home controllers such as Google Home or Alexa
Smart hubs or else the smart assistants are the linking controller for all your smart devices.
Google Home and Amazon Alexa are two famous smart hubs.
Typically, these hubs along use a tiny amount of data.
If you are just turning on/off lights, plugs, or changing the thermostat value, it does consume a minimum amount of data to activate those commands.
However, if you are going to listening to music, then that will cause a considerable amount of data rate, 100 MB per hour at least.
Smart Doorbells
Nowadays, there are lots of video smart doorbells for higher protection.
These are considered an excellent choice to protect your household.
Anyway, the consumption of data usage for the doorbell video stream is really high in most commercial products. 
You need to check the device settings and reduce that into an acceptable minimum level to protect your data bundle.
Otherwise, these could eat at least 50 to 300 GB per month based on the device manufacturer.
Smart Security Cameras (CCTV)
Now smart security cameras are pretty much advanced.
These days, we can have smart cameras that has the capability to record only live moving persons (using PIR sensors).
Those kinds of features can minimize your data package.
But, you still need to consider a few factors while using these cameras.  
Smart cameras in highly active areas
Sometimes, you can mount your smart camera in a place where it is highly active.
Therefore, the camera can trigger all the time, and it will feed its video stream continually.
Ex: in a kitchen or near a road
HD quality video streaming
Most of the camera's out in the market feature HD or HD+ video capability.
It's really good to have a quality video output.
However, based on the video quality, the number of gigabytes been used will be raised.
For example, a low-resolution feed will consume around 15 GB per month.
Similarly, it will consume around 70, 160 GB for medium and high quality, respectively.
Smart Thermostats
Thermostats will maintain your house temperature for you.
It does not require much amount of data. Usually, 50 MB per month is enough. 
Smart Bulbs or plugs
These are quiet famous items in a smart house.
Check our best buying guide for smart bulbs and smart plugs here.
The operation for these devices may not change much from a smart thermostat.
They will do their task based on the given instruction and will not relay on much data usage to operate.
As a rough estimate, one device will consume 50 MB per month.
What can you do to monitor the monthly google home data usage?
There are a few different ways to track your monthly data usage.
The easiest way is to log into your router and check device data usage in the router's reporting section.
If your router does not has a reporting feature (it's a common feature, so it will be available in most of the router models), you can consider buying this google router from Amazon.
It has an advanced reporting feature for each device.
Another way is to set up a firewall in between your smart home device network and your internet connection.
Ipfire is a good open-source firewall that can be used for this purpose. 
Frequently asked questions
Does Google Use a Lot Of Mobile Data?
When it comes to web browsers and the 10,000 applications we tested, Google Chrome used the most data roaming. Three of the biggest five data-consumption applications are mobile browser apps, which consume three times as much data like other apps.
How Much Data Does Google Use Per Minute?
To put it another way, if you are planning an hour-long road journey, you can predict to consume roughly 36MB of data using Google Maps.
How Much Data Does Google Use Per Hour
The Maps app for Android and iPhone uses roughly 5-10 MB per hour in the usual setting.
Does Google Nest Hub Use Data?
It's possible that specific Google Nest devices or services, such as the Google Nest Hub Max, process and store part of your data locally and not on the Web server.
Does Google Home Use A Lot Of Electricity?
This may jump from 106 kWh of electricity per year to 248 kilowatt-hours per year in total yearly TV energy usage.
What Does Google Home Mini Do?
Using Google's Home Mini, you can play music, make reminders, or even ask about recipe ideas if you're having trouble coming up with a romantic dinner idea.
Does Google Assistant Use A Lot Of Data?
Google Assistant uses mobile data. However, it takes a comparatively little amount of energy. There is a second possibility if you've been using Google Assistant and have noticed a sudden spike in your data use.
How To Check Which Device Is Using The Most Internet On Wifi?
The Google Home application may be accessed by launching the app.
To connect to a wireless network, press the Wi-Fi button.
At the top of the screen, choose Devices.
To learn more, choose a device and then a tab. The amount of data the device is now utilising in real-time is known as "real-time consumption."
Final Thoughts
I think, now you are aware of the ways of google home network can consume data.
Based on that knowledge,  you can evaluate your network data consumption and decide whether it has a problem, or it is time to increase your monthly data quota.